Breakups & Hook-Ups
​
Apr 28 | by Natasha
​ ​ ​ ​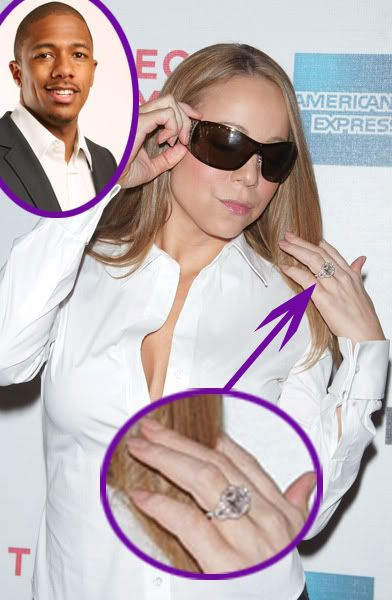 So these two are serious? 
MiMi
's been rocking a stunningly large diamond ring on her engagement finger all weekend while doing press in the NYC.  And when
Nick Cannon
's (her rumored new lil boo) people were asked about it...they gave the standard "No comment."  But when
People
caught up with the two at the Tribeca Film Fest and party at Tenjune this weekend, Nick said he "loved everything about her."  Um, what?  Who saw this ish coming?  Certainly not me.  I was too blinded by the metallic and pastel spandex mini dresses.
Here's a sneak peek into what's going down on the best day ever May 1st (my birthday) on
Divorce Court
.
Gary Coleman
and his wife of a few months
Sharon Price
are already on Splitsville Lane and appeaing on the show that day:
"If he doesn't get his way, he throws a temper tantrum like a five-year-old does," Price says, according to a transcript of the show provided to The Associated Press. "He like stomps the floor and yells, 'Meehhhh,' and starts throwing stuff around. He bashes his head in the wall, too."
"When I try to state my case or explain things to her or try to get her to understand my point of view," Coleman says, "my point of view doesn't matter."
Price also complains that Coleman has no friends and inexplicably disappears from home in the middle of the night. When Toler presses him, Coleman admits he is negative.
"I don't have any friends and don't have any intention of making any," he says. "People will stab you in the back, mistreat you, talk about me behind your back, steal from you. And they're not really your friends. (They're) only there because you're a celebrity or because they want to get something from you."
Coleman went on to describe the couple's private life as "mediocre."
"It's not her fault," he says. "I always feel like I have the weight of the world on my shoulders every day I get up. ... There are days I don't even want to get up."
*setting the DVR now*
Priceless.
​ ​
​ ​ ​