Oh Stop It
​
May 01 | by Natasha
​ ​ ​ ​
The folks over at
Hollyscoop
(who I actually previously deemed as a credible source but...) are confirming that
Beyonce
is indeed knocked up:
A source close to the couple revealed, "Beyonce is 100% pregnant, which is why the couple rushed their wedding." The source also told Hollyscoop that all the friends and family that attended the ultra private wedding were all aware that Beyonce was already expecting.
They also said she's only in the early stages. Whatev. I can't co-sign on this being a rushed wedding since other sources tell me it's been planned for a long time now. And we all know that shot gun ish didn't work for
Solo
. Can't two black folk who've been together for 6 years get married simply out of love? Damn. Once again, everybody needs more people.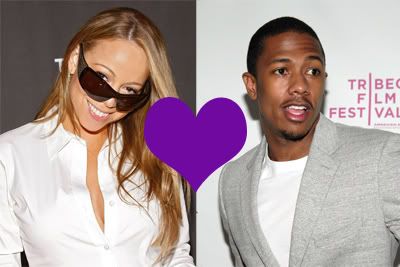 Mariah Carey
and
Nick Cannon
are taking this publicity stunt of a "relationship" on another 15 minute publicity stretch.
Us Magazine is confirming
that Mariah and Nick are indeed engaged. But my own sources tell me
I was right on the money
about this simply being a publicity stunt surrounding MiMi's new "Bye Bye" vid that Nick is playing her leading man in. Is this the level we're stooping to now Mariah? You've been in the game since the damn Ice Age and now you want to pull this ish out your ass. And with some Nickolodeon Cannon? Everybody in this situation needs more people.
UPDATE
:
TMZ.com
Seriously Nick? At least get a different prop ring for your publicity stunts.
UPDATE 2
: Now sources claim that
Mariah and Nick are married
.  Apparently it was an impromtu ceremony on a small island yesterday.  Wasn't dude in New York yesterday though giving interviews and ish?  Whatev.  I can't take it.
​ ​
​ ​ ​