O-BA-MA!
​
Jun 03 | by Natasha
​ ​ ​ ​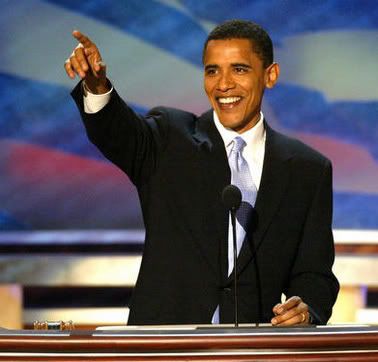 In the breaking news of the day,
Barack Obama
has officially clenched the Democratic nomination
for President of the United States. He has made history as the first black American to ever get the official Presidential nom. Around 11:30a est today, the AP broke a story saying that Senator
Hillary Clinton
announced that she will officially concede to Senator and Presidential hopeful Barack Obama tonight in the run for the Democratic nomination--once he reaches the proper number of delegates he needs to officially get the nod. This would come after several months of campaigning for the nod when mathematically it was virtually impossible for her to win, she is officially conceding. But a few minutes after the story broke, her campaign manager put out word that the story was indeed false and her camp has never said the such. Either way, as of 2:30 est today, the AP has an updated report that the Democratic party has officially given Barack Obama the nomination after their tallying of delegates. It's now a race for the White House between 46 year old Obama, 71 year old John McCain and candidates of other parties. Props to Hillary for persevering and going further than any other woman ever has in a Presidential election. Definitely something for young women everywhere to aspire to. Despite your party affiliation or your pick to win...register to vote, learn the issues, and vote accordingly. Let the excitement continue...
​ ​
​ ​ ​