Mike Vick's Brother & Naomi Campbell Are Trippin'+Who Stole Russey's Ish?
​
Jun 13 | by Natasha
​ ​ ​ ​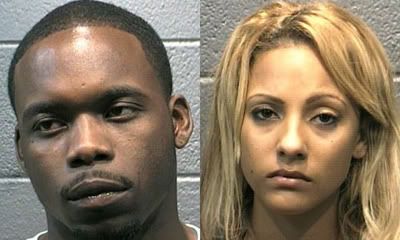 First
Michael Vick
was in legal trouble, now his brother (and former VTech QB)
Marcus Vick
has been arrested in Norfolk, VA
. Marcus has been in trouble several times before, hence him having that "former VTech QB" status as he was kicked off the team a while back because of his antics. Apparently, early this morning/late last night Marcus led 5-0 on a wild goose chase. He was spotted arguing with a chick in a car, then he got ghost going on a high speed chase when the cops asked him for ID. He's been charged with DUI, eluding police, reckless driving and driving on a suspended license. This is not the movies boo. You
will
get caught. His "lady friend" who was with him and likely the one he was arguing with is
Delicia Cordon
. She was arrested for being drunk in public. What's really hood around those parts? And what's really
really
hood with her wig?
WTF is going on
Na Na
? She was spotted busting her ass after
simply walking to her car with a friend
. But her "friend" says, "Naomi was just joking around with friends. She was pretending to fall to see who would catch her." Whatev. I'm going with the white stuff and vodka diet.
Sombody jacked Russell Simmons for his jewelry. His suitcase stuffed with $15k of Simmons Jewelry Company jewels
was snatched in the hallway
of a Bleeker St. apartment building. That sucks.
​ ​
​ ​ ​