Dammit Jesse Jackson!+No Divorce For Shaq & Shaunie?+Kanye's New Absolut Infomercials+Pharrell And That Damn Purple Birkin Bag
​
Jul 10 | by Natasha
​ ​ ​ ​
Leave it to
Rev. Jesse Jackson
to do more harm than good. Peep the clip from his stint on Fox News last night that everyone is talking about. He thought his mic was off when he was talking ish about
Barack Obama
. He said he wanted to "cut his nuts off" for talking down to black people. And this is coming from a man who is Team Obama and on the damn campaign trail for the man. Even his own son
Jesse Jr.
has put out a statement saying he adamantly rejects his daddy's statements and essentially said they were horribly foolish. Schooled by Jr. That's gotta hurt.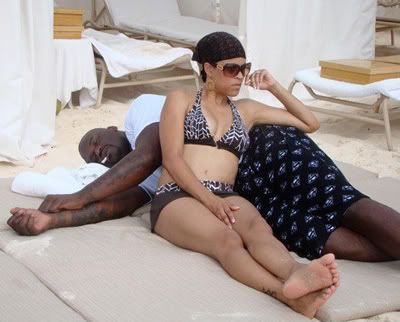 And sources are reporting that
Shaunie O'Neal
has stopped all the divorce proceedings with her hubby
Shaquille
and is likely going to move toward reconciliation. Well we all knew that was coming since they all of a sudden have been hitting up every event together like nothing happened. They were even spotted in the Cayman Islands (above) for the Holiday this past weekend. Well congrats to them for working it out. More ish when you read the rest...
Pharrell
is killing me toting this big purple (and I must admit-oh so hot) custom Hermes Birkin Bag with him everywhere and on like every magazine cover. I hate when dudes have hotter bags than me. He and his pet murse need to stop though.
And
Kanye West
has started his infomercials with his new sponsor/partner Absolut Vodka. At least I'm
told
these infomercials are part of the Absolut partnership. Check it: It's a pub for his new product BE KANYE. And yes, this mess is for real. You can check out more craziness at BeKanyeNow.com. LOL at the "Be Kanye" pills. The Randomness: 1. Thanks to traffic spikes and overloads, YBF has been loading extremely slowly at certain times of the day for some of you. So we're upgrading this ish yet again and everything will be fixed very soon. Thanks so much for your patience!
​ ​
​ ​ ​