WTF Is Wrong With Michael Jackson?!+Queen Latifah In A Bike Accident!+Dr. King's Children At War!
​
Jul 11 | by Natasha
​ ​ ​ ​
What in the heezy is going on here?
Michael Jackson
was spotted being wheeled around in a wheelchair at his local Barnes and Noble bookstore yesterday and it left every patron who caught a glimpse of this quite confused.  Oh and it gets better.  While this time he was the one all covered up, his kids
Paris, Prince,
and
Blanket
were on full on exposure:
Wow. Here's a news snippet of the strange happenings yesterday:  
Jacko was accompanied by his three children, Prince Michael, 11, Paris, 10, and six-year-old Prince Michael II, to the Barnes & Noble toy store in Vegas.
Jackson used a minder to ferry him into the store and was accompanied by an additional entourage of eight but wheeled himself around inside.
One shopper said: 'He looked a bit weird wheeling himself around covered up in a surgeon's mask. He was in the shop for about two hours in total. When they left, the children came out first and he was wheeled out behind them.'
Medics say Jackson is suffering from back injuries following a career of extreme dance moves. Others say his metal set of wheels is used as a prop.
Wow again.   Updates on the
Kings'
legal woes and
Queen Latifah's
bike accident when you read the rest...  
According to TMZ, all is not well in the King fam. 
Bernice King
and
Martin Luther King III
are suing
Dexter King
, alleging he took "substantial funds" from the Estate of
Coretta Scott King
and put them in his personal piggy bank for his own use. They're saying he's fraudulent and they're demanding a trial by jury.  This ought to get interesting.  And I know their parents are turning in their graves watching their children fight over some money.  Damn shame.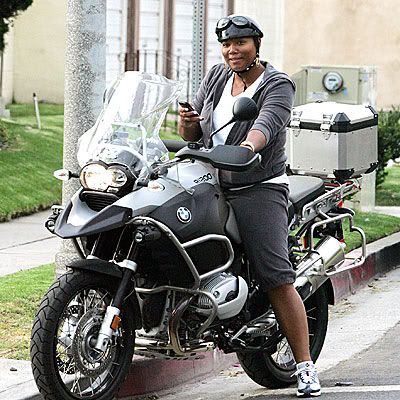 Sources tell me that shortly after this pic was taken this week,
Latifah
got into a motorbike accident after losing control of the vehicle.  I'm told she refused treatment at a nearby hospital and treated her wounds herself.  Glad you're ok Queen.  I wonder if her "trainer" played Candystripper.  And no, that wasn't a typo when I said Candystripper.  
​ ​
​ ​ ​