R.I.P. K-Swift
​
Jul 21 | by Natasha
​ ​ ​ ​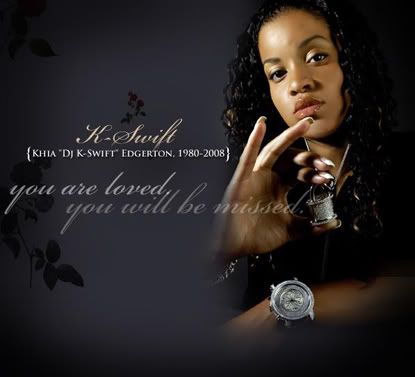 In some extremely infortunate and shocking news, 28 year old
DJ K-Swift
of Baltimore's 92Q died early this morning.  She was one of the most well know DJ's on the station and in the radio business.  The family of K-Swift is asking that no questions be asked about this situation, so it is unclear as to the surprising cause of death.  While I have been told by a few people what the cause of death possibly is, I will refrain from posting speculations until an official report has been released.  There will also be a candlelight vigil tonight in Baltimore from 6p-10pm at 1700 White Head Road. The following is a statement posted
on the 92Q website
:  
We are deeply saddened and it is our deepest regret to inform you that the 92Q family, the music industry, and the community has suffered an incredible loss. Early Monday morning, Khia Edgerton, better known as, K-Swift, passed away.
K-Swift has been with 92Q for ten years and in that time she grew to become one of our most popular DJs and known throughout the world as the Baltimore club queen.
She leaves behind a mother, a sister, and a large extended family.
This is terrible loss and a terrible day for 92Q and the entire community.
As a tribute to K-Swift, 92Q will be running without on air personalities for the rest of the day and airing special memories of K-Swift. If you would like to share your thoughts and memories of K-Swift, please call 410-907-0411.
Thank you for keeping K-Swift's family and the 92Q family in your thoughts and prayers.
I personally had the pleasure of working with the 92Q family over the past year or so in doing guest spot entertainment reports on Marc Clarke's morning show. The 92Q fam has been a huge supporter and friend of TheYBF.com in several ways.  This is definitely sad news for the entire DC, Baltimore, Virginia area, as well as for radio everywhere.  Our condolences go out to K-Swift's family, friends, and the entire 92Q family.
UPDATE
: It was confirmed and announced a few minutes ago by a member of the 92Q fam that K-Swift's cause of death was that she suffered a broken neck at her pool party last night either because of or before she entered her pool.      
​ ​
​ ​ ​