Lil Kim Caught Up In Nightclub Drama Yet Again
​
Aug 07 | by Natasha
​ ​ ​ ​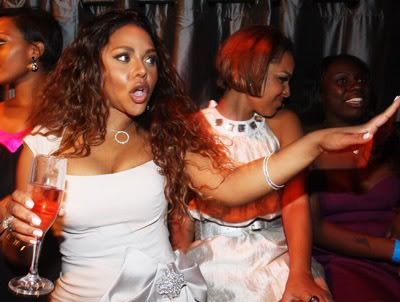 Nunez
Serious drama at
Lil Lim's 33rd birthday party Monday night
. 
A 24 year old woman named Ingrid Rivera was found blugeoned to death
at NY's Spotlight Club (the place of the party) on its rooftop after she was reported missing the night after Kim's party.  Rooftop workers found her grisly body yesterday around 5:30p and it is unknown exactly what happened.  The bouncers do report that Ingrid was kicked out of the club for overly drunken behavior, and a friend attempted to escort her out, but the bouncer Ingrid was arguing with told the friend to go away.  It's unknown what happened next but police are watching surveillence tape of the club from that night. The victim was reportedly wearing only her undergarments and signs point to sexual assault and struggle.  An autopsy will be performed.  Lil Kim put out a statement today saying she knew nothing of this matter until the media did.  Sad situation.  
UPDATE
: A "low level employee" of Club Spotlight has supposedly confessed to the murder of Ingrid Rivera.  According to the
NY Daily News
:
Sayed Rahman, a barback at the Spotlight Live club, told investigators this morning that he targeted Ingrid (China) Rivera, 24, because she appeared drunk, sources said.
Rivera had been thrown out of the club, and Rahman spotted her on the street.
Promising that he could get her back into the hotspot, he lured her to the roof, sources said.
He then attacked Rivera, possibly trying to rape or rob her, sources said. Rahman then hit her in the back of the head and jammed her lifeless body in a rooftop electrical room.
Rahman, 24, worked stocking shelves and fetching ice at the glitzy club. Charges against have not yet been filed.
This is absolutely horrible. 
​ ​
​ ​ ​