Arrests & Legal Woes: Shaq, 50 Cent, Felicia "Snoop" Pearson, & Dexter King
​
Aug 22 | by Natasha
​ ​ ​ ​
Just when things started to get all peachy again with
Shaquille
and
Shaunie
, some chick (who claims she's an Atlanta hip hop artist called Mary Jane) named
Alexis Miller
is accusing Shaquille of threatening her.  Apparently they had an affair and he threatened her "career" if she told anyone.  According to
TMZ
:
Alexis Miller, an Atlanta hip hop artist who goes by Mary Jane, just got a restraining order against Shaquille O'Neal, alleging he threatened to hurt her and harassed her with heavy-breathing over the phone. Miller claims they had an affair and that when it ended, Shaq threatened he'd wreck her career if she told anyone.
According to court docs Shaq wrote her one email that reads, "I dnt no who the fuk u think u dealin wit u will neva be heard from one phone call is all I gotta make no try me. Sho me."
O'Neal is scheduled to appear before a judge on Sept. 4.
Sigh.  Why am I not surprised at all?  Damn shame.      
Well if it isn't art imitating life. And vice versa I guess.
Felicia "Snoop" Pearson
, one of the co-stars of "The Wire",
has been arrested on suspicion of minor drugs charges
. And it looks like a work around for the cops to detain her for a lengthy amount of time since she initially refused to cooperate in a pending murder trial she's a witness in. Cops busted into her Baltimore home with a body warrant yesterday and found cigars filled with "possible drugs". She was then taken in and can be detained until September 16th. If this ain't some "Wire" ish I don't know what is.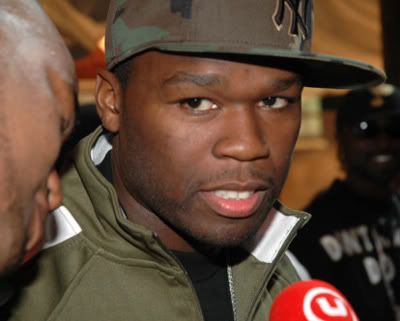 50 Cent
is said to now be cooperating with the officials investigating his suspicious house fire. This week reports said he was avoiding speaking to them for some unknown reason and the investigation could not move forward without 50 being interviewed. But his lawyers state:
"50 and his attorneys met yesterday (Wednesday) with Suffolk County authorities regarding the fire that destroyed 50's house. The meeting had been arranged weeks ago. 50 is eager to review the findings of the investigation, when it is concluded."
I wonder if his baby's mama 
Shaniqua
is shook now?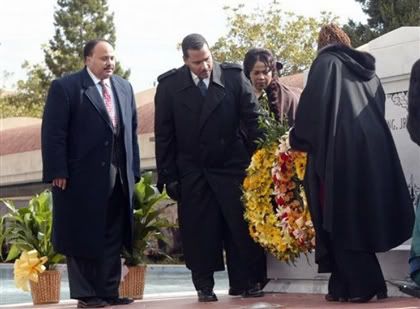 Dexter King,
Martin's
son who was sued by his siblings
Martin III
and
Bernice
just a few months ago, is counter-suing his siblings for their mishandling of money and the family organization:
In the suit filed on Monday, Dexter King said his siblings have established foundations that compete with The King Center and have used the center for personal gain. It also says the foundations conflict with their duties on the center's board of directors, which all three children serve on.
The lawsuit continues an escalating feud between Dexter, nice and Martin Luther King III that has played out in the media.
Bernice King and Martin Luther King III sued Dexter King in July to force him to open the books of their father's estate, which sold a collection of more than 10,000 of his personal papers and books in 2006 for $32 million.
Source
Bernice King founded the
Coretta Scott King
Foundation in December 2007, which the lawsuit says also competes with The King Center. The lawsuit accuses both siblings of "demonstrating bad faith, being stubbornly litigious, and causing The King Center unnecessary trouble and expense" and seeks an undisclosed amount of money. Just a mess.   The Randomness: 1.  Shout out to Jamaica for killing all kind of word records in the 2008 Olympic Men's Track races.  I'm sure all of my YBF folks from Jamaica (it's a lot of y'all) are loving it.
​ ​
​ ​ ​