Don't Ef With Tangy Talley!+T.I. Claps Back About Child Support Case+Boris & Ciara's Magazine Pics
​
Sep 15 | by Natasha
​ ​ ​ ​
Ciara
and
Boris Kodjoe
are looking hot in the new issues of
Maxim
and
Uptown
magazines, respectively: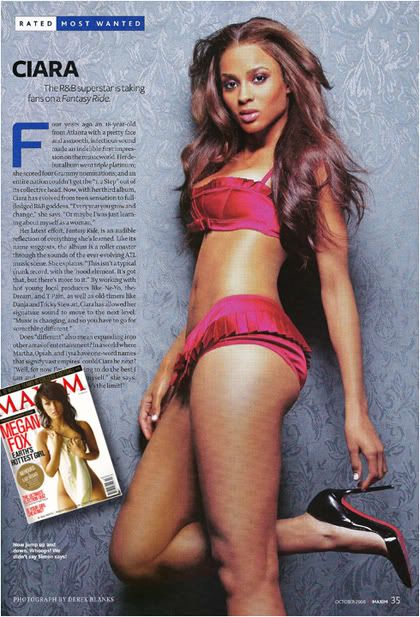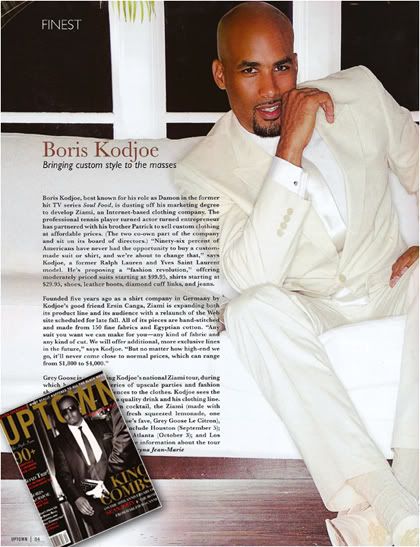 Both were shot by famed photographer
Derek Blanks
.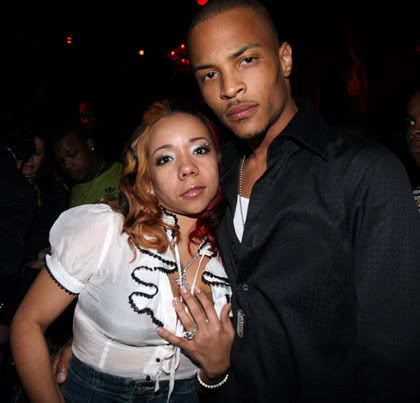 A few days ago reports hit the net that
Lashon Dixon
, the mother of 2 of
T.I.'s
sons, was taking him back to court for more child support.  It was reported that T.I. was paying $2000/month for both children and clearly Lashonda couldn't make ends meet on that child support amount.  However, T.I. has come and cleared the air with some insight.  Apparently, this chick Lashon doesn't work at all and lives solely off the child support payments.  And in addition to the 2k/month, T.I.P. is paying for both sons' private schooling, insurance, clothes, food, extras, gifts, everything.  That 2k was going straight to Lashon only.   And now chick is demanding more.  Womp womp!  I see I need to start a Wack Ass Baby Mamas category.  Here's a snippet of T.I.'s statement:
"A lot of deceiving information has been reported regarding my recent child support proceeding. It is unfortunate that the media has been used to manipulate the circumstances and distort the facts. Those that know me, all know that there is nothing more important to me than my children. I have always supported all of my children financially, emotionally, and spiritually. This has always been the case and I will continue to do so in the future as this is my responsibility as a parent.
To clarify the recent reports, in addition to the $2000 per month I pay in cash to Lashon Dixon, the mother of my sons Domani and Messiah, I also pay for their private schooling, medical insurance, clothing, food, gifts, birthdays and extracurricular activities. Their extra-curricular activities have included football, basketball, baseball, acting lessons, summer camp, and any other activities that they express a desire to be involved in that will contribute to them leading balanced lives and developing into well rounded individuals. I have also made an attempt to help Lashon with additional payments that have included a down payment to purchase her home, purchase of an automobile for her transportation and other financial obligations. These expenses are documented and are far in excess of the $2000 cash payment that is being paid direct to Lashon. She has chosen not to work and to live 100% from her child support receipts. This is the reason for her difficulties in making ends meet for herself.
When will baby mamas understand that child support is not shopping money for
their
asses? I just don't get it. More when you read the rest...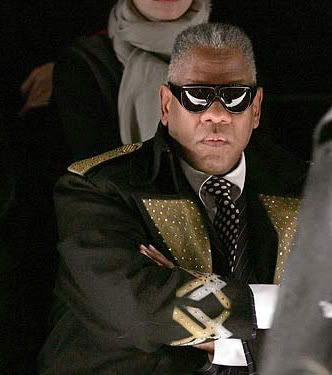 Tangy T. Talley
is NOT trying to play with y'all.  Somebody sprayed champagne all over his outfit while he was at a Fashion Week show last week and dude flipped out on the divo (yes, divo) Madea tip:
ANDRE Leon Talley, the 6-foot-8 Vogue icon, cuts a flamboyant figure even when he's calm. Imagine when he's frantic. Talley was early for the Stephen Burroughs fashion show on Friday and sitting in the vestibule of the designer's West 38th Street showroom when a man opened a bottle of Piper-Heidsieck champagne and it sprayed all over Talley. The drenched fashionista screamed, "Look what you've done! I've got to wear these clothes all day!" And when the clumsy sprayer tried to towel him off, Talley yelled, "Get your hands off me!"
The Randomness:
Nate Dogg has just suffered a second stroke and Webbie has been arrested on assault charges after a high speed chase.  Details at Allhiphop.com.
I wonder if it was the same day
he was rocking his open toed velvet slippers
.  That could get real sticky.  I would have paid money to see this ish.
​ ​
​ ​ ​