Lil Wayne Is A No-Show...Again!
​
Sep 30 | by Natasha
​ ​ ​ ​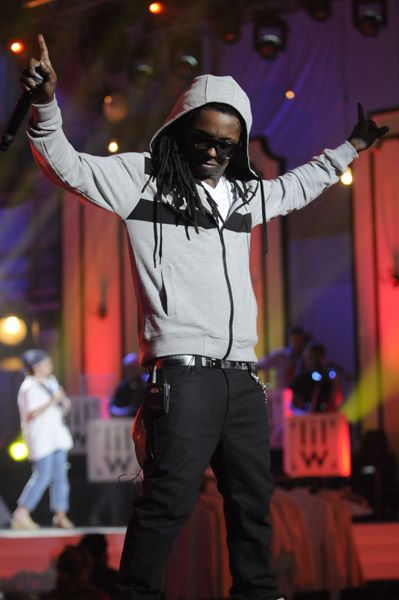 Once again
Lil Wayne
has skipped out on a show with no warning or reason. He was set to perform in Nassau, Bahamas this past weekend and didn't. The host of the concert says that he was indeed on the island, but he was "being a prick about performing". No word on whether his absence was money related. But yet again, he left his fans sorely disappointed. YBF sources in the Bahamas tell me that people even bought $20,000 suites at the venue Wayne was supposed to perform at. And the promotion company hosting the concert, Red Tottle Red City Entertainment, is not giving any refunds to anyone as of yesterday. Damn! So of course, the Bahamians are in an uproar right now and are protesting against the Bahamas Ministry of Tourism. A copy of the press release from the entertainment promotions company when you read the rest...
Pic: Mazur
The Red Tottle Red City Entertainment Company is in hot water due to Lil Wayne's no-show this past weekend. And here's their Sorry 2008 press release in full:
September 29th , 2008 Official Press Release Red City Entertainment Ltd. RE: Poppin Bottles Concert This press release is to address the unfortunate circumstances surrounding the no show appearance by Lil Wayne at the Poppin Bottles Concert event at Bristol Wine and Spirits on Saturday, 9/27/08. Red City Entertainment Ltd. had issues late on Friday night concerning the sound and lights production for the event. These circumstances were dealt with, but not to the satisfaction of the company's owner, therefore the event was cancelled for that evening. Immediately, BuJu and Lil Wayne's management were contacted to arrange for the event to take place on Saturday, 9/27/08 as an alternative. Management confirmed and all artists agreed to perform on the next day, and all media was contacted to let the public know of the changes. During the day on Saturday, Lil Wayne's management requested additional monies, separate from the original $210,000 fee, to secure Wayne to perform at the concert. Red City Entertainment agreed and provided the funds needed late Saturday afternoon. We proceeded with the concert scheduled as planned. That evening, Red City Entertainment was informed Lil Wayne was on the way to the venue and set to perform after 2:00am. At no time was Red City Entertainment notified that Lil Wayne would NOT perform. We continued through the night to inform our hosts DJ Pencil and Empress that Wayne was coming because that is what we were being told by his management. Unable to locate him, we sent our team members to the Atlantis to discover he was partying at the nightclub there all night. Red City Entertainment would like to apologise to patrons, vendors, workers, police, media friends, sponsors and the Bahamian staff that worked tirelessly to make this event happen. Our sponsors including Bristol Wine and Spirits, BTC, Bacardi and 100 JAMZ have been extremely supportive during the associated incidences with this event. In response to the press already released in Nassau today, we are very sorry to friends and ticket patrons here in Nassau….. even with all the issues, haters and sabotage attempts, we never imagined Lil Wayne would actually party all night at the Atlantis and not follow through with his promise to perform. At this point, the damage is done. We are here trying to professionally handle the situation and address the issues at hand because our name and reputations are important. We are thankful Bahamians are forgiving people, however, we also know they are tired of paying to see celebrity artists that don't show…….and promoters taking their hard earned money. It has come to our attention that Lil Wayne may have a track record of missed appearances……please review the attachment (included below).
Sounds like
everybody
's sipping too much syrup around those parts. Weezy, especially, needs to get it together. Speaking of Wayne, here's some screenshots
from the new movie he's in called Hurricane Season
: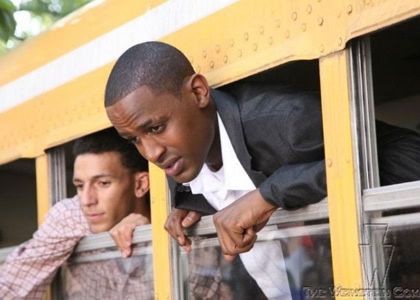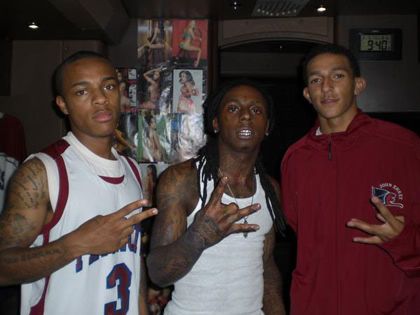 Synopsis: A true story of an unlikely group of high school basketball champions who - in the devastating aftermath of Hurricane Katrina - learn the true meaning of survival. It's starring
Isaiah Washington, Weezy, Jackie Long, Taraji P. Henson
, and several others. It hits theaters Christmas Day '08.
​ ​
​ ​ ​