*UPDATED* Hudson Tragedy Update: Julia Hudson Pleas For Her Son Julian
​
Oct 26 | by Natasha
​ ​ ​ ​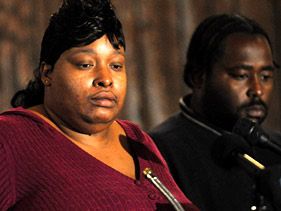 Just hours ago
Julia Hudson
,
Jennifer Hudson's
sister and mother of missing 7 year old
Julian
, gave a public plea for the safe return of her son.  Julian's biological father,
Greg King
, was also at the podium (on right).    Julia, who we haven't heard from since she reported her child missing yesterday afternoon, says she was the person who broke the tragic news to Jennifer about their mother and brother's death.  Here's a snippet of the Chicago Tribune coverage and
you can go here
to see the video of her plea:
"All I ask, I don't care who you are, just let my baby go," she said to reporters and relatives. "I just want my son back. He doesn't deserve this." Standing next to Greg King, Julian's father, Julia Hudson described her son as an "easy-going" child who would rather stay home and read a book or hang out with his grandmother than play outside. When she called her sister, Jennifer, Julia said the Oscar winner "was screaming" and "flew in right away." "It hurts. We're in a state of shock. I don't know what else to do but pray," Julia Hudson said. She urged the public to keep your eyes and ears open and to call out Julian's name or "Juice Box" or "Dr. King," other names he answers to. "He's out there. Just let him go," she said, her voice cracking. Asked what she would say to her son now, Julia Hudson said: "I love you. Mama's looking for you." Julia Hudson said her mother and her son were "extremely close." "I worked, so he was always with her, day in and day out," she said. "She did everything for him. She got him ready for school. She got him ready for bed." She said Julian is smart, has a good sense of direction and knows where he lives. She described him as a "sensitive child" who "doesn't like to get hollered at." She pleaded with Julian's abductor: "Give me my baby back, that's all I ask. I know he's out there. Just let him go." Asked her greatest fear and greatest hope, she said: "My greatest fear has already happened. My greatest hope is for him to come back."
The FBI has been called in as well.  Our prayers are still with the Hudson family.
UPDATE
:
Jesse Jackson Jr.
has spoken out Sunday morning about Julian King being held for ransom and neighbors have confirmed that William has threatened to take the child away if Julia kept "playing him".  Chicago's Mayor
Richard Daley
has also spoken out.  And
Sen. Barack Obama
has released the following statement to Jennifer and family, as he asked Jennifer to sing the National Anthem at the Democratic National Convention a few months ago:
"Michelle and I were absolutely heartbroken to learn about this unimaginable tragedy, and we want Jennifer and to know that she is in our thoughts and prayers during this very difficult time. We also pray for the swift and safe return of her young nephew."
​ ​
​ ​ ​