No Bubbly For MiMi?+The "Real Housewives of Atlanta" Reunion
Nov 26 | by Natasha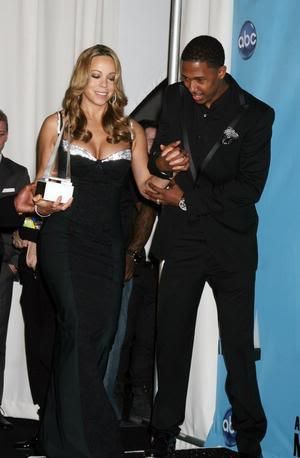 Mariah
appears on
Ellen
today. And after Ellen offered Mariah some champagne to celebrate her "non pregnancy", MiMi couldn't even drink it. She tried to play it off and said she's not confirming necessarily that she is preggers. Y'all know Ellen is messy and did that mess on purpose. Stop with the games MiMi. Just like I thought--the "Real Housewives of Atlanta" Reunion show alone was worth me suffering through the train wreck that was this first season.  My favorite part:
After
Kim
gave her Oscar worthy performance talking about her FRIEND who happened to e a doctor telling her he was 90% sure she had cancer due to her hairloss and weight loss, we find out she DIDN'T have cancer. Even though she spoke about it for about 5 minutes and indirectly confirmed that she did--and laid a guilt trip on NeNe in the process. Even the host was confused as all hell. And here's an exclusive clip only shown online when the ladies received their Blog Awards:
I couldn't help but fall out after NeNe was about to Pop Off Son! on Kim's ass after being called a b*tch. Hilarity at it's finest. Damn these trainwrecks for making want to watch Season 2. But I
am
happy the OC chicks are back. Sue me.