BREAKING: OJ Simpson Sentenced To 15 Years Prison Time!
​
Dec 06 | by Natasha
​ ​ ​ ​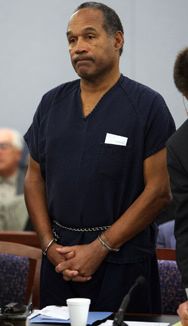 Karma is not a game. 
OJ Simpson
has just been sentenced to a MINIMUM 15 year sentence for leading an armed confrontation last year in Vegas over sports memorabilia.  The charges are kidnapping and robbery.  According to
CNN
:
His voice shaking,

Simpson

had apologized in court and insisted he was merely trying to recover property that had been stolen from his family. He was convicted of leading a group of armed men into a room at Palace Station Hotel and Casino, where they planned to take sports memorabilia from dealers Bruce Fromong and Al Beardsley. "I stand here today sorry, somewhat confused. I feel apologetic to people of state of Nevada," Simpson began. At times, he appeared to be fighting tears as he spoke.
The judge made a point to say this case had nothing to do with the past.  But he also said OJ is both ignorant and arrogant.  Harsh words.  Good luck with this OJ.
​ ​
​ ​ ​