Christina Milian Says She Was Dropped For Rihanna+T.I. Readies For The Slammer
​
Dec 18 | by Natasha
​ ​ ​ ​
Christina Milian
is looking extra fly on the upcoming double cover issue of
Rap-Up
magazine. On her first magazine cover since parting ways with Island Def Jam in 2006, the diva breaks her silence on the emotional past two years, why she was dropped, which superstar encouraged her comeback, her reaction to ex-boyfriend
Nick Cannon
's marriage to
Mariah Carey
, and her brand new album. Here's some juicy quotes:
On how she reacted after being dropped from her label
: "It was embarrassing. It was a week after my album [So Amazin'] got put out. I would be in my room a lot of the time crying by myself."
On the reason why she was dropped
: "It was a budget cut, I believe. [Def Jam] probably got rid of projects like mine to spend the money on [Rihanna]."
On the celebrity who inspired her to get back into music
: "I bumped into Janet Jackson at a club. We talked for an hour and I was telling her I don't know if I'm gonna do this, and she was like, 'Girl, do not let them stop you. I'm a fan and you make good music.' She's a person I actually looked up to growing up, so her telling me that really was the day I was like, 'I'm not gonna let these people hold me down. It's time.'"
On learning about ex-boyfriend Nick Cannon's marriage to Mariah Carey
: "I was surprised like everyone else. I was like, 'Really?' It just seemed like a weird match, but I was happy for him. I always feel Nick works hard to get what he wants, whether that be women—that's how he got me."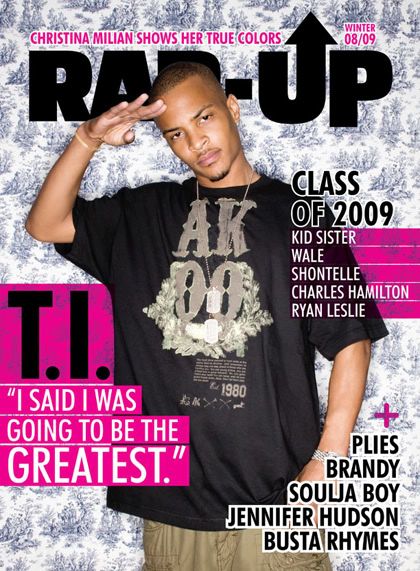 And
T.I.P. Harris
is on the flip side of the issue. He reflects on the biggest year of his career, his impending jail sentence, the effect it will have on his family, and how the King always gets his way:
On how his children are going to deal with his time in prison
: "My oldest is 12—she understands. She's strong and smart. The three weeks I was in, before I got to come home, she said to me, 'Don't worry. I'll hold things down 'til you get back.' I'm more worried about how my boys are going to deal."
On what it would take for him to be conceited like Kanye West
: "Selling a billion. At about a billion, I think I'd be pretty hard to deal with."
On winning awards
: "No disrespect to Kanye, but that kinda stuff just don't mean nothing to me. Whether or not I win an award, I mean that's nice, but at the end of the day I understand that I'm a man. What being a man means to me is not defined by an award or an amount of records sold."
​ ​
​ ​ ​