WHAT'S BEEF?: Jim Jones vs. Rappers+Lil Kim vs. Faith+Janet vs. Beyonce
​
Jan 06 | by Natasha
​ ​ ​ ​
Jim Jones avoiding the question about the alleged assault
So after the all the hoopla of the
Jim Jones
and
Ne-Yo
"associate" scuffle,
Jimmy turned himself in to the Manhattan precinct
yesterday to dish his side of the story to the cops. He says he was shopping in the Louis Vuitton store in Manhattan, minding his own business, and he doesn't really even know what happened. But folks are running off at the mouth saying Jimmy and the unnamed Ne-Yo/
Jay-Z
"associate" (whatever that means) got into catfight inside the store. Over what? Somebody grabbed the last Louis rag, or somebody grabbed the last pair of shoes on sale, or you know--anything that could cause a catfight in a boutique I'm sure. All of this went down Christmas Eve and Ne-Yo skipped out on his NYE show with Jim Jones and other a few nights later. What's really hood?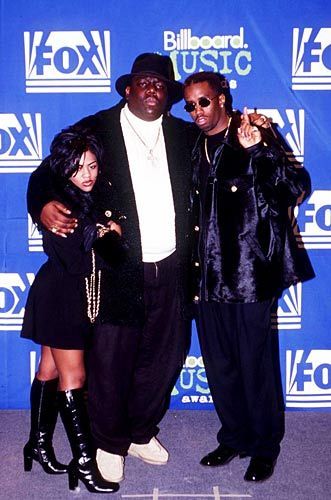 Those memoirs
of
Faith Evans
and this
Notorious
movie are really pissing
Lil Kim
off. Sources are saying that Kim feels like she's being mis-portrayed as simply Biggie's concubine and jumpoff. *blank stare* So now she's set to clap back at Faith and others with her own version of what went down during those Notorious years. I have a feeling when she starts to recap what really went down, the truth will def hurt. Kim girl, stop fooling yourself.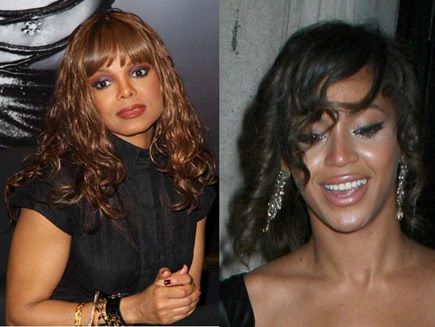 Remember when
Beyonce
was talking ish about the
Jackson
family
saying Papa Joe used the kiddies to get out of their hell stricken "situation"
and that's not what happened to her because the Knowles were "upper class"? Well
Janet
's supposedly not too happy about it. Here's what she's been saying:
"She feels Beyonce went out of her way to tell the world she's from the upper class and the Jacksons were like a bunch of dirty gutter rats." "Janet is proud of her family and how they came from nothing and became superstars." "Not only is Janet telling everyone who will listen that Beyonce has a lot of growing up to do and that she needs to stop trying to impress everyone, she's planning to confront Beyonce herself and read her the riot act."
But then again,
National Enquirer
is the source. So um, yeah. I have a feeling there's some truth to this ish though.... The Randomness: 1. The list of the stars
Barack Obama
has invited to participate in his Inauguration continues to grow.
Story
​ ​
​ ​ ​