GRAMMY DRAMA: Chris Brown Investigated In Domestic Violence & Felony Battery Charges!
​
Feb 09 | by Natasha
​ ​ ​ ​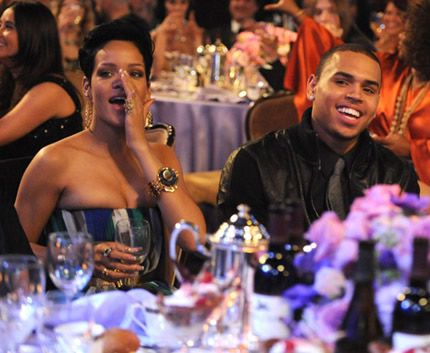 UPDATE (1:20a EST): Video of Chris Brown turning himself in to LAPD is below (excuse the extra large size for now). He has already set bail. Word has it he was charged with Felony Criminal Threats--which means physical violence accompanied verbal threats. Rihanna was also spotted at the LAPD Wilshire Station making the actual booking charges. She appeared to have serious bruises on her face:
UPDATE (11:13p EST): Chris Brown has officially been booked and his bail is set at $50,000. Full Booking info when you read the rest...
UPDATE (10:21P EST): We're told Chris has been getting prepped by his lawyers for the last few hours. And he has just turned himself in to LAPD.
UPDATE (9:11p EST): Ok, here's the low down we got from an extremely credible PR source on the ground at the Grammys. Said source tells TheYBF.com that the "car accident" story is false and is being used to throw everyone off. Rihanna is DEFINITELY the victim of domestic violence and is now pressing charges against her boyfriend Chris Brown as we speak. Early this morning while leaving Clive Davis' party, the two got into a physical altercation in their limo and he punched Rihanna in the face. We're told that's when he/the limo dropped her at Hancock Park in L.A., and she ran and called 911. He left the scene and hasn't been found since. We're told Chris has until midnight tonight to turn himself in to LAPD. Otherwise, he will be arrested as soon as he's spotted by an LAPD officer. We're told Rihanna is definitely in the hospital recovering as we speak.
UPDATE (7:21pm EST): It has just been confirmed that neither Rihanna nor Chris Brown will be performing or showing up at all to tonight's Grammys. Grammy staffers are saying Chris may be replaced by Justin Timberlake. Chris has NOT been arrested as of yet. But LAPD Officer April Harding has just said: "If police locate Brown, yes, he's subject to arrest."
UPDATE (7:50p EST): The Recording Academy's official statement: "We have just been informed that Rihanna will not be attending tonight's 51st Annual GRAMMY Awards. We're sorry she is unable to join us this evening.' No confirmation from the Academy about Chris Brown, but the Grammy staff confirmed earlier he will not be attending. Being considered to replace him are Justin Timberlake and Al Green.
********************
O snap! Word just hit the Grammy Red Carpet and media sources around it that Chris Brown is being investigated for felony battery. There was an "incident" around 12:30a this morning with a female who was in his limo after they left the Clive Davis Pre-Grammy party. Apparently he and an unnamed female--who everyone's speculating is his girlfriend pop star Rihanna--got into a heated argument in the limo and it escalated. She ended up having very visible injuries to her body and she has just filed charges.
While Chris was definitely with Rihanna at the party, the female's name who filed the charges against Chris is being held in secret right now. Apparently that's the policy for felony battery issues. Cops involved in the case just said: "Any victim who's involved in a domestic violence incident is entitled to confidentiality." And since they're calling this a "domestic violence" charge, this leads folks to believe this could very well involve Rihanna. Damn. Ish just got real in Tinsletown.
Interestingly, when Rihanna's reps were asked about her well being, their response was: "Rihanna is well. Thank you for concern and support."
Very suspicious to say the least. Chris is set to perform tonight, but the head of the Grammys just announced during the pre-show he doesn't think Mr. Breezy will be hitting the stage. Or Rihanna either. It's rumored they've been replaced by Boyz II Men.
Drama!
STORY DEVELOPING...
​ ​
​ ​ ​