Foolywang Friday: Coolio Busted For Crack!+Sheree Whitfield Is DREADFULLY Broke!
​
Mar 06 | by Natasha
​ ​ ​ ​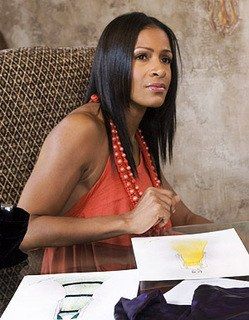 This ish is a mess. "ATL Housewife"
Sheree Whitfield
has once again
proven her brokeness...and wackness. Not only did she get evicted from her house she was left with after her divorce from former NFLer
Bob Whitfield
, but now her former lawyer is suing her for over $87,000 for unpaid expenses since May '06. And that heffa ain't got it. Here's a snippet form the official complaint:
"Defendent's refusal to pay said debt as agreed constitutes an act of bad faith and has caused the Plaintiff unnecessary trouble and expense, thereby entitling Plaintff to an award of its expenses of litigation, including reasonable attorney's fees in an amount to be proven by the evidence at trial."
I know she's pissy she dropped that suit to get extra mula out of her ex. And since we all know her "clothing line" She by Sheree isn't hitting--let alone moving off--nan a shelf, chick is the new spokesperson for BROKE EX-HOUSEWIVES STILL TRYING TO FRONT. I'm still trying to understand how she's hitting all these red carpets and charity benefits without a lick of money or a lick of a business. And how is a second season of "Real Housewives of Atlanta" being filmed with this same cast in it? Seems like everybody's on the show's been hit by broke stick. Smdh.
In other news,
Coolio
was arrested after getting caught with crack today while trying to go through security at LAX. The screener is the one who caught him with it. Which mean dude didn't even try to hide that mess. Damn shame. He's been booked at the jail now. Crack though Coolio? I thought even Broke Joe Larry from around the corner upgraded to something higher than crack. Just saying...
​ ​
​ ​ ​