EXCLUSIVE PICS: Lil Wayne & Drake Perform Together For Marcus Jordan's Graduation Party+Drake Hearts Groupie Sex?
​
Jun 07 | by Natasha
​ ​ ​ ​
YBF snitches were inside
Michael Jordan
's son's
Marcus
' high school graduation private party last night at Chicago's Park West nightclub: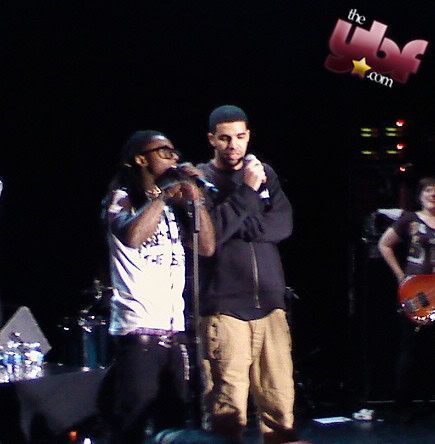 And
Lil Wayne
and
Drake Drizzy
took the stage together to perform.  No shots fired this time.  These two rarely perform on stage together but y'all already know MJ was going to pull out all the stops for his mini-me. In other news, groupie tales of sexcapades with the rap world's most talked about up and coming talent Drake have hit the net. Check it:
I know a lot of females have put up groupie stores about Drake saying that he is big thick and long...All that non-sense which i don't believe ever happened. This is my story and i know if Drake reads this he's going to know who i am but i just want people to know that he isn't like that at all! I started talking to Drake on myspace. One day i got a message from him asking me for my aim screen name. From there we've been keeping in touch. So Wayne was having the Young Money tour and Drake told me that he would be in my town and he will reserve three tickets for me and my friends and that we should pick it up when we get there. During the concert we were able to go back stage. Basically just hanging around and listening to the performances from the back which was pretty cool becahen it was real late and i had to get back to my dorm and he gave me a kiss and hug saying he's going to miss me and already can't wait to see me again.use it was the first time i met Drake even though we've been talking on aim for awhile. He gave me a hug and kiss on the cheek and was happy to see me. After the concert he invited me and my friends to his hotel room and we played xbox live, talked, ate and chilled. His homies were there also so my friends weren't feeling like third wheelers. We talk everyday even if he's busy he would text me and ask how im doing. He's a real sweet guy and he's nothing like what any of those three females were saying. Lol like come on Drake will not go down on a groupie or even on a first date! I just wanted to tell my story because everyone wanted to tell lies and U wanted to tell the truth so everyone can know what a nice person he is.
As for the truth of this ish, you be the judge. Another NSFW and raunchy sexcapade and more pics when you read the rest... You've been warned...
So I'm pretty sure now that he's on the rise everyone know the little yellow boy fro Degrassi Well let me be the 1st to tell you Aubrey is far from a lil boy We had met after he did a show .And me and my 2 friends was at the bar his man came over to me and said Drake said call him later now Im like what ever brushing this off but later that nite we was in vip with them poping bottles getting twisted off his account. Then it was lil chit chat back and forth ended with him saying well do u wanna come back to chill with me .Now It can only be too things he like my voice and he want me to remix Best I Ever Had or he want me to Roc his Mic like porn star either way I was down. So we know smoking blunts and I don't smoke but fuck it Drake passed it so I said wtf If Ima let my hair done and be a 'GROUPIE' I'ma try and be a groupie he remember. So after we smoked a blunt he was standing behind me and started kissing on my neck and rubbing his fingers thru my hair yes ladies he a hair puller and I think he loves hair on the low ..lol..And I was poking my ass out getting aroused and he was unbuttoning my pants and I just let him ..Then I turned around he grabbed my hand and took me to the room locked the door and sat on the bed and I stood in front of him and he begin to take off my shirt and started kissing my stomach and sucking on my tits by the hand fulls and he started pulling off my pants. all a while he was still dressed I pushed him back by his forehead and pulled up his wifebeater and started kissing his stomach and he was directing me to suck his d*ck so I pulled of his pants and starting sucking his dick while he finger pop the shit out of me fingers all in my ass and in my p*ssy I wanted to sing Best I ever Had but I decided not to I can tell he was feeling it cause he was moaning hard and his finger game got more and more intense .So it was like 15 minutes in he said damn ma I told him I'ma make sure u nut he giggled and said baby sit on my face I said said ok with out no hesitation He was licking and sucking my p*ssy juices and it was on from there . After a half in hour of sucking each others unmentionables he layed me on my back and went in I mean I didn't think Drake was going knock it down but thatt boy got Black in him lol he f*cked the sh*t out of me had me in all types of positions my legs on his shoulders he hit it from the back slapped my ass and played with my p*ssy and kept asking me if I'm ready to c*m he said baby I ain't cumin until you c*m and moments later he asked me where do u want it I said where ever just don't smear my make-up and don't get it in my hair he smirked and let it all off on my ass crack and kissed the middle of my back. We then took a shower together and the next morning he said he'd call but he never did but I knew what it was but if I ever ran into him again I would deep throat his sh*t in a heart beat
Wow. More pics of Weezy from the concert: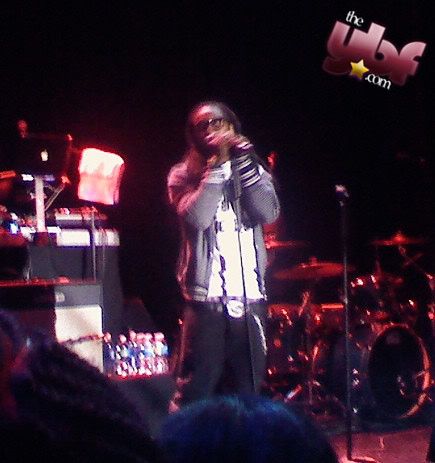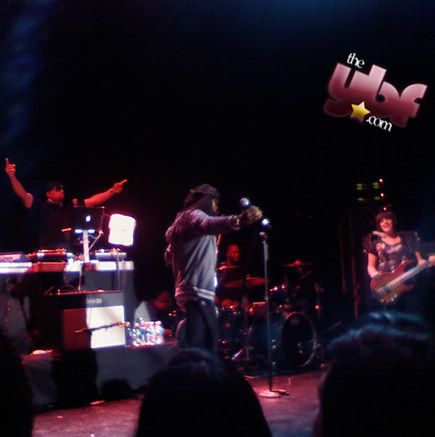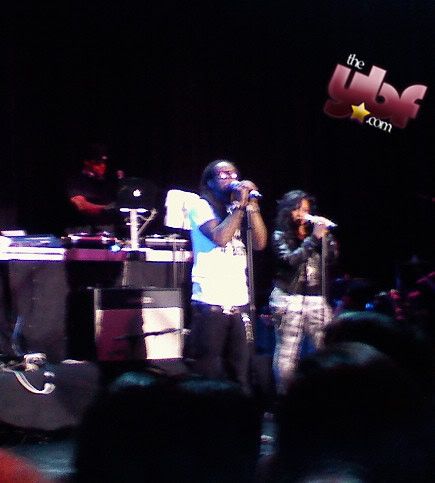 And here's Weezy's new "Kobe Bryant" song for the road...
​ ​
​ ​ ​