Thanks For The Legendary Memories Michael...
​
Jun 26 | by Natasha
​ ​ ​ ​
The Jackson family, as well as almost every musician and celebrity in touch with the public, has expressed their shock and sadness from
Michael Jackson
's death.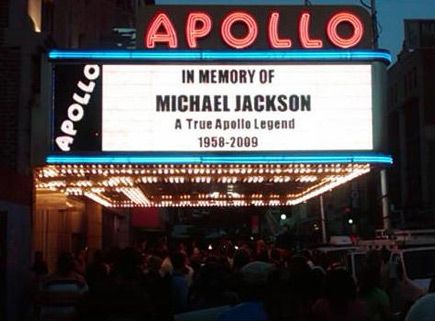 Blog and Twitter messages and statements from the stars:
Usher
: "May God cover you Michael. We all lift your name up in prayer. I pray for the entire JACKSON family particularly Michael's mother, children and all his fans that loved him so much. I would not be the artist, performer, and philanthropist I am today without the influence of Michael. I have great admiration and respect for Him and I'm so thankful I had the opportunity to meet and perform with such a great entertainer, who in so many ways, transcended the culture. He broke barriers, he changed radio formats! With music, he made it possible for people like Oprah Winfrey and Barack Obama to impact the mainstream world. His legacy is unparalleled. Michael Jackson will never be forgotten."
Beyonce
: "The incomparable Michael Jackson has made a bigger impact on music than any other artist in the history of music. He was magic. He was what we all strive to be. He will always be the King of Pop! Life is not about how many breaths you take, but about how many moments in life that take your breath away. For anyone who has ever seen, felt, or heard his art, we are all honored to have been alive in this generation to experience the magic of Michael Jackson. I love you Michael."
Diddy
: Michael Jackson showed me that you can actually see the beat. He made the music come to life!! He made me believe in magic. I will miss him!
Vanessa Simmons
: The death of Michael Jackson came as such a surprise to me. At first I felt incredibly saddened, but as I sat and thought of Michael Jackson, the greatest entertainer of our time, it put a smile on my face. He was such a dynamic person who touched tonssssssssssssss of people with his talent! That's incredible! A round of applause for Micheal
Madonna
: "I can't stop crying over the sad news. I have always admired Michael Jackson. The world has lost one of the greats, but his music will live on forever! My heart goes out to his three children and other members of his family. God bless."
Russell Simmons
: Michael Jackson was my generation's most iconic cultural hero. Courageous, unique and incredibly talented. He'll be missed greatly.
Mariah Carey
: I am heartbroken. My prayers go out to the Jackson family,and my heart goes out to his children. Let us remember him...
Brandy
: It hasn't hit me YET!!! I know when it does I will be a f**kin WRECK!!!!! I loved and still LOVE Michael Jackson!!!
Quincy Jones
: "I am absolutely devastated at this tragic and unexpected news. For Michael to be taken away from us so suddenly at such a young age, I just don't have the words. Divinity brought our souls together on The Wiz and allowed us to do what we were able to throughout the 80's. To this day, the music we created together on "Off The Wall," "Thriller" and "Bad" is played in every corner of the world and the reason for that is because he had it all…talent, grace, professionalism and dedication. He was the consummate entertainer and his contributions and legacy will be felt upon the world forever. I've lost my little brother today, and part of my soul has gone with him."
Erykah Badu
: Thank you Michael for your hard work , dedication ,philanthropy,& the sacrifice of your young spirit . Your vision and imagination live thru us. I don't know what to say. *************
NEWS
10:25p EST:
LAPD's statement on Michael Jackson's death
10:35p EST
: The Jackson family lawyer just spoke on ABC and said that he has witnessed Michael and incorrect use of prescription drugs. He said it has been happening for the past couple of years. He said he will be very vocal about it if the autopsy report points to the cocktail of 7 medications he believes Michael has been taking. Apparently the lawyer has been trying to warn everyone around Michael of his concerns for a while now. Michael's body has been transported from UCLA.
​ ​
​ ​ ​