MJ Updates
​
Jul 14 | by Natasha
​ ​ ​ ​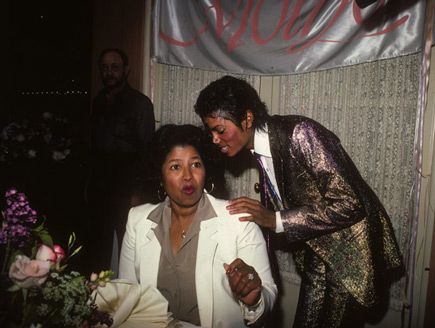 Michael and mother Katherine at her birthday party in '84
Here's the latest on
Michael Jackson
:
The family had to move Michael's body from Berry Gordy's crypt at Forest Lawn where it was being kept.  They feared a crazed fan would come in and possibly damage the coffin and body.   They moved him to the facility's main building basement until burial details are worked out.
Katherine Jackson and Debbie Rowe have reached a compromise on the custody of Michael's 2 eldest children.  Debbie has agreed to allow Katherine to raise the kids on the condition that Joe Jackson not be permitted to have input into the kids' lives.  Rowe will also be entitled to monthly visits with the children.
Michael Jackson's London O2 Arena gig promoter Randy Phillips says he is "confident" that a tribute gig for Michael will take place at the venue in the near future.
Debbie Rowe took a payout--again--to give up parental rights to her kids.  She will receive $4 million for dropping her custody case against Katherine Jackson, hence giving up her parental rights to Prince Michael and Paris Katherine. UPDATE: Debbie Rowe's lawyers have fired off a letter to the NY Post telling them this story is untrue and demanding a retraction.
​ ​
​ ​ ​