Sara Stokes Needs A Mentor+Mike Vick Blogs It Out+Fabolous & Jay-Z's New Video
​
Aug 17 | by Natasha
​ ​ ​ ​
WTF?  Sara Stokes has spoken out about that incident involving her stabbing her husband because she thought he "tripped" her.  She now says she didn't stab him, he stabbed himself. 
TMZ
reports:
TMZ spoke with the manager for former "Making the Band 2" star Sara Stokes, who told us a completely different story than the one we heard from law enforcement. Here's the breakdown:
Stokes' Version -- The incident started by the pool, when Sara innocently tripped and hit her face. Her husband tried to get something to clean her off and accidentally cut his arms on knives in the kitchen sink.
Law Enforcement Version -- It started when Sara stormed out of her house after a screaming match with her husband, she fell over and blamed him for tripping her -- grabbed a knife and stabbed the crap out of his arm while their 3 children watched the whole thing.
Oh, and Sarah claims the reason she accused her husband of tripping her was because she "suffered a concussion when she fell and was confused." I'm going to keep this all the way 100 with you Sarah.  You sound crazy.  Not because you are, but because you sound like you're trying to cover up for that husband of yours.  Homeboy had controlling behavior way back in Da Band days.  And it sounds like you need a mentor to escape or some ish.  This situation just looks suspect.  That's all I'm sayin....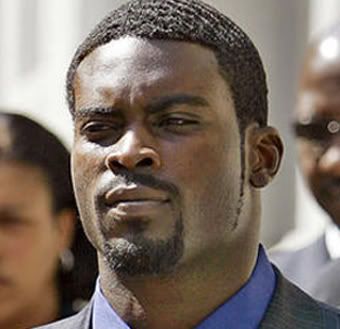 Mike Vic wrote an apology letter via Global Grind today:
I'm sorry. That's the place where I need to begin. My feeling of remorse. I ain't never written a blog before, so putting my thoughts down on paper is a challenge - however it's a challenge I must face. I can look a 250 pound linebacker in his eyes at the line of scrimmage and have no fear. But expressing myself when I know that there are millions of people who are so angry with me, and rightfully so, is a challenge unlike any other I have faced before. What I did was horrendous. Awful. Inhumane. And I've no excuses for my actions. It makes my heart hurt now to think about what I've done. And I'm gonna be real honest, it took a while for me to get to this place. Sitting in a prison cell didn't make me feel remorse. It was meeting so many animal lovers, speaking with them and looking them in their eyes. Staring at them. Looking so deep into their eyes that I began to feel their pain. Allowing that pain to enter into my body is when I started to understand how bad it really was. I have been trying hard to connect with people who feel this pain,because for my whole life I was disconnected from the suffering of animals. And you might say, "come on Mike, how could you do those things to those dogs?" And you're right...I ask myself those questions every day. What kind of person does this? How does a human-being treat dogs or any animal with such pain and cruelty? And the hard part for me is the answer to these questions. Because the answer is ME. And I am trying so hard right now to become a better person, because who I was, I am ashamed of.
The rest of his apology letter is
here
. Here's Fabolous and Jay-Z's new video.
​ ​
​ ​ ​