Serena Fined $82k+Tiger & Elin Facing Search Warrant
​
Nov 30 | by Natasha
​ ​ ​ ​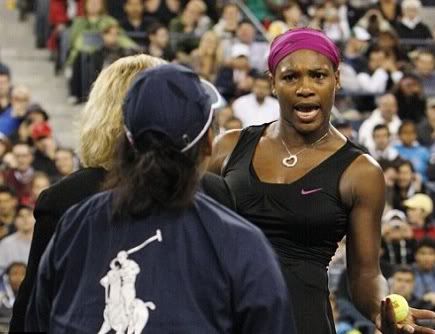 Serena Williams
has been fined a record $82,500 for her outburst at this year's U.S. Open and could be suspended from that tournament if she has another "major offense" in the next two years.  The Grand Slam administrator says if she has another incident at a major championship in that time, the fine would increase to $175,000 and she would be barred from the following U.S. Open. By the way, the highest fine up until now for a Grand Slam offense was about $48,000.
Police are close to getting a medical records search warrant for
Tiger Woods
and
Elin
's home after this weekend's drama. Reportedly:
Florida Highway Patrol wants to establish whether the facial injuries for which Mr Woods was treated at Health Central Hospital in Ocoee, Florida, last Friday were consistent with his wife's version of events, or whether they may have been inflicted during a domestic incident.
Officers are also likely to be seeking clarification on whether Mr Woods, 33, who had surgery for a previous knee injury last year, had taken painkillers or had been drinking prior to the 2am crash outside his home on the exclusive Windermere estate in Orlando.
It's getting crazy...
​ ​
​ ​ ​