SPORTS DRAMA: Ocho Cinco Owes Money+Terrell Suggs Gets Domestic Violence Charge
​
Dec 08 | by Natasha
​ ​ ​ ​
Cincinnati Bengal
Chad "Ocho CInco" Johnson
owes some pocket change to the Chrysler Financing company after buying a jeep from them last year. But the fact he hasn't paid his car note in several months seems odd. So the company is suing him for the $34k he owes on his loan:
He paid $55,5487.35 for the vehicle but put $20,000 down on it, getting a loan for $37,975 for the car he bought from Northgate Chrysler Jeep.
The suit accuses him of being in default on the loan, having paid $3,200 on the car in 13 months.
It claims he owes $34,709.72 on that loan plus 15 percent interest annually from Sept. 10, 2009, likely the last payment the company received on the car. His monthly payments are $847.11.
Fire your people Chad. This ish is unacceptable.
UPDATE
: Chad took to Twitter to explain his "situation" and says he actually bought the car for a family member and
they
are the ones defaulting: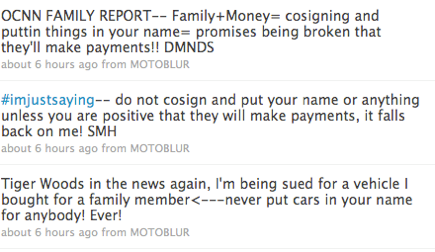 Our advice still stands. Fire your people Chad. Another baller caught up on domestic violence charges when you read the rest...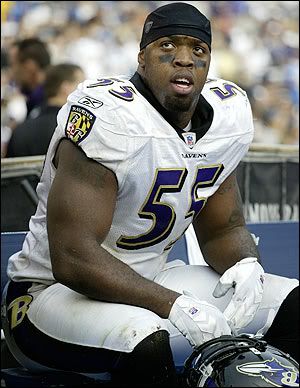 In other football news, Ravens baller
Terrell Suggs
just got charged with dmestic violence charges by his fiance and baby's mama
Candace Williams
. Candace says he threw bleach on her and their son after knocking her down after an argument over some game tickets. WTF?? But Terrell claims he's not even in a relationship with her. Candace has still copped a restraining order against him:
According to the complaint made available Monday, Williams said Suggs threw a soap dispenser at her head, hit her in the chest with his hand, and held a bottle of bleach over her and their son, which spilled on them and caused a rash. A District Court judge wrote that a laceration was visible on Williams' chest.
A follow-up hearing has been scheduled for Friday. Suggs' attorney, Eric Gordon, could not be reached for comment.
The allegations came in an application for a protective order, a civil process initiated by individuals, and Suggs has not been charged with a crime. Court records also indicate that the Department of Social Services has become involved.
Ravens vice president Kevin Byrne said the team has a copy of Williams' court report and reiterated that Suggs "will have his chance to tell his side of the story."
When will 2009 end?!?!
​ ​
​ ​ ​