All-Star Baller Dwight Howard Talks Game & Silliness With YBF
​
Feb 16 | by Natasha
​ ​ ​ ​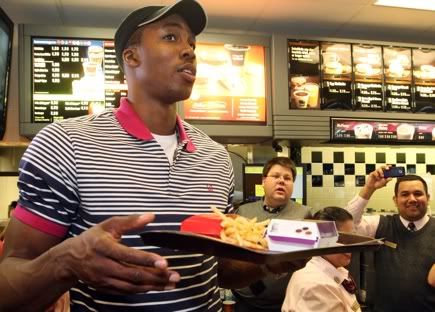 YBF was on the scene in Dallas over the weekend to chat it up with Orlando Magic baller and All-Star East starter
Dwight Howard
. He made an appearance as part of the How Do You McNugget Sweepstakes kickoff at McDonalds, where Dwight was showing people how he likes to McNugget: "dribble and dip it." Check out YBF's mini-interview with the
other
Superman when you read the rest...
YBF correspondent James talked to Dwight on Saturday about the All-Star game and which players he's looking forward to seeing. A little something for the YBF sports lovers:
YBF: Was there anything that you did in advance to prepare for this event and your special move?
Dwight Howard (DH): No, not at all. I feel that All-Star is about the fans, so I try to do events such as this to get out and enjoy myself and meet the fans. I try not to think about the actual game of who wins or who loses…but just about getting involved with the fans.
YBF: Since you are not participating in the slam dunk contest this year…how does it feel that the contest will be missing its most entertaining baller?
DH: People have said that, but I'd rather see someone else get their shine on. I've been in the dunk contest for the past 3-4 years and I believe the contest helped boost my career. People were able to see my personality through the slam dunk contest and I want to see someone else have that same opportunity. But maybe next year I'll get back into it.
YBF: How was it shooting the McDonalds Super Bowl Commercial with Lebron James?
DH: We had so much fun. People don't realize how silly we both are. And to have us both in the same building together is crazy. Two guys who love to have fun…who love to crack jokes…I might be the silliest person in the NBA. Just having somebody else there that loves to have fun is crazy!!!
YBF: What are you most excited about? And who do you expect to show up and show out?
DH: The dunk contest is what I'm most excited about. And I think D-Mar is going do great. Also Shannon Brown--I think he's like the crowd favorite!
Nate Robinson
ended up winning the dunk contest again. But Dwight was a cool dude nonetheless. And yes, we got shut down by his reps when we asked about his baby mama drama.
*Kanye shrug*
​ ​
​ ​ ​