MOVIE STILLS: Flicks From Why Did I Get Married Too?
​
Mar 02 | by Natasha
​ ​ ​ ​
Lionsgate studio released two brand new flicks from Tyler Perry's Why Did I Get Married Too? movie: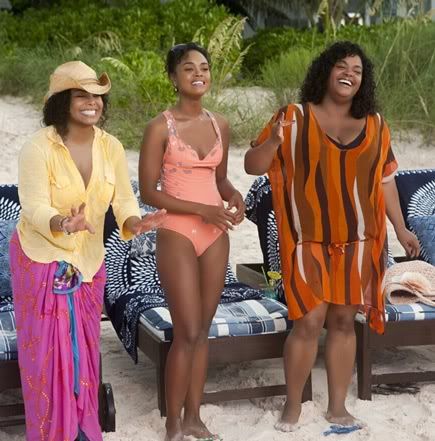 This sequel is set in the Bahamas. I see they still gave Jill Scott this ugly wig. The full synopsis and second pic when you read the rest....
Gathered together in the Bahamas for their annual one-week reunion, four close couples eagerly reconnect, sharing news about their lives and relationships. But their intimate week in paradise is disrupted by the unexpected arrival of Sheila's ex-husband, Mike, who hopes to break up her new marriage with Troy and win her back. The others soon realize they too are not immune to the challenges of commitment and fidelity. Angela doesn't believe her husband, Marcus, can be faithful now that he's a celebrity television newscaster. Dianne and Terry's relationship is feeling the strain of raising children. And Patricia, a successful self-help psychologist, must finally reveal the deep flaws in her seemingly perfect marriage to Gavin. With their relationships hanging in the balance when they return home, each couple must choose between blame and forgiveness, doubt and faith, with life-altering consequences... April 2nd just isn't coming quick enough. The Randomness: 1. DMX will perform at the Morning Star Sanctified Church for a fundraiser this Saturday in Glendale, Arizona. Pastor Barbara King says X and his wife have been members for the last 8 months. And X wants to help raise money for the building fund and church repairs. Priceless.
​ ​
​ ​ ​