Tiger's Mistress Joslyn Releases Freaky & Graphic Sext Messages
​
Mar 18 | by Natasha
​ ​ ​ ​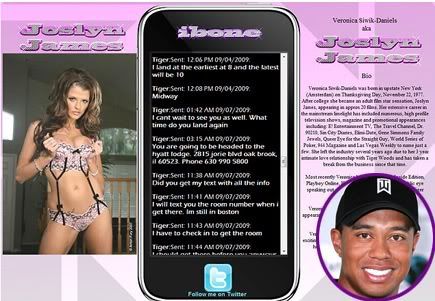 Apparently
Tiger Woods
is into golden showers a la
R.Kelly
. On the heels of him announcing his return, one of his many mistresses porn star
Joslyn James
created a website and went live with it this morning showcasing over 100 graphic texts from Tiger. The messages are full of slapping, hitting, choking and even "relieving" himself on the chick. Just when you thought
your
sext game was crazy.... More of Tiger's NSFW and uncensored texts (don't get mad at me--you've been warned) he sent to his porn star jumpoff when you read the rest.... Well who knew Tiger had all THIS in him. They start July '09 and end this past October. The last one from Tiger:
"Dont f**king talk to me. You almost ruined my whole life.If my agent and these guys would have seen you there, F**k."
Guess
somebody
was starting to feel guilty. Here are the standouts:
Tiger:Sent: 01:28 PM 09/08/2009: Have you ever had a golden shower done to you Tiger:Sent: 01:29 PM 09/08/2009: Just morbid curiosity Tiger:Sent: 01:30 PM 09/08/2009: Really. You. You have done just about everything havent you Tiger:Sent: 06:02 PM 10/01/2009: Baby im not going anywhere or doing anything. You please me like no other has or ever will. I'm not losing that. You have to understand people love to tal Tiger:Sent: 06:02 PM 10/01/2009: k about me. sometimes its good and sometimes its bad. I have learned to just roll with it no matter how much it upsets me when its not true. My life is a Tiger:Sent: 06:02 PM 10/01/2009: fish bowl Tiger:Sent: 03:32 PM 08/29/2009: I have no idea. I would love to have the ability to make you sore Tiger:Sent: 03:35 PM 08/29/2009: In a week. I will try to wear you out Tiger:Sent: 03:36 PM 08/29/2009: After i cum you better start sucking my cock to get it hard Tiger:Sent: 03:37 PM 08/29/2009: Do you ever hook up with other guys or girls Tiger:Sent: 03:41 PM 08/29/2009: You didnt answer the question Tiger:Sent: 03:43 PM 08/29/2009: Ok. I would like to have a threesome with you and another girl you trust Tiger:Sent: 04"02 PM 08/29/2009: I want to treat you rough. Throw you around, spank and slap you Tiger:Sent: 04:06 PM 08/29/2009: Slap your face. Treat you like a dirty little whore. Put my cock in your ass and then shove it down your throat Tiger:Sent: 04:07 PM 08/29/2009: You are my fucking whore Tiger:Sent: 04:08 PM 08/29/2009: Hold you down while i choke you and Fuck that ass that i own Tiger:Sent: 04:10 PM 08/29/2009: Then im going to tell you to shut the Fuck up while i slap your face and pull your hair for making noise Tiger:Sent: 04:21 PM 08/29/2009: Where do you want to be bitten Tiger:Sent: 04:24 PM 08/29/2009: Ok. Now your talking. Whatever i want. You are mine
Check out all the rest over at
Deadspin
since Joslyn's site is down.
​ ​
​ ​ ​