So This Was Reggie's Pre-Breakup Jump Off?
​
Mar 25 | by Natasha
​ ​ ​ ​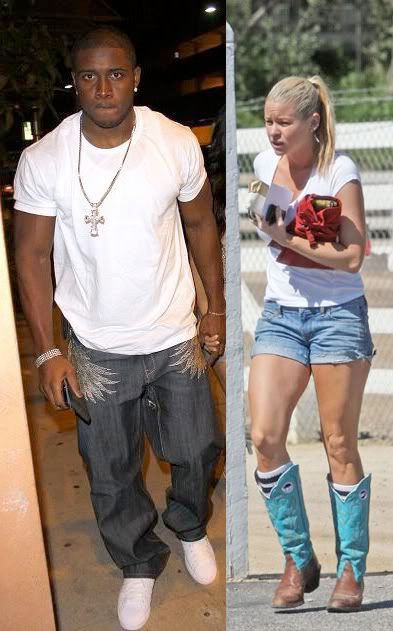 Reggie Bush
may be hinting that no cheating went down before he and Kim K. broke up this week, but pics never lie.  Flicks have surfaced of a certain blonde waitress named
January Gessert
leaving Reggie's L.A. home the morning after she and a friend spent the night there.  They were partying it up together at a spot beforehand. March 18th, while Kimmy was away in Miami "working", it appears that Reggie was getting it in with this chick.  The next morning, she left his house for work--and was pictured getting in her car that was right next to Reggie's--and he left for NYC. Paparazzi sources reports:
It all started on Thursday night (March 18) when Reggie and a friend met up with January and her friend at the Red Rock on Sunset. Reggie then left the bar alone at 1:15am, but his buddy drove the two girls over just 45 minutes later.
January and her friend stayed all night and were seen leaving Reggie's house at 7am on Wednesday morning.
Reggie took off to NYC later that afternoon looking as innocent as can be.
Womp. More pics after the cut...
And this January chick isn't the only one he's accused of tappin'. There's been ample proof that he has jumpoffs in Miami (
Carmen Ortega
), a chick named
Danielle
in New Orleans, and another named
Crystal
in Vegas. Well damn.
​ ​
​ ​ ​