FOOLISH ACTIVITES
​
Apr 15 | by Natasha
​ ​ ​ ​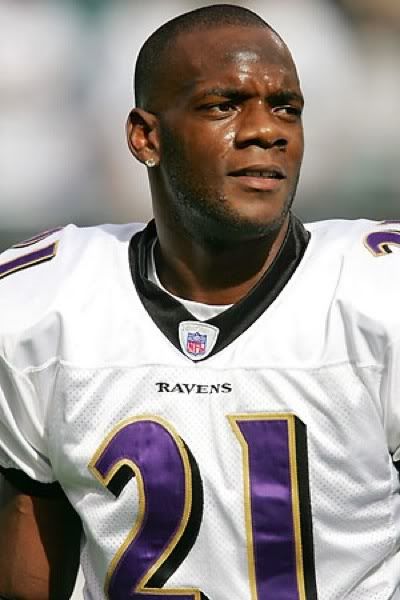 NFL baller Chris McAlister is not looking good to the female species. His wife Marlene just filed for divorce-and it was mainly because she wouldn't abort their now 2 month old daughter. And he hasn't even seen his wife or his kid since baby was still in the womb.
The deets when you read on...
According to TMZ:
NFL star Chris McAlister is at the center of a nasty legal war with his wife -- who claims Chris kicked her out of their home when she refused to get an abortion.

Marlene McAlister has just filed court documents to end her 13 month marriage to the former Pro Bowler -- claiming she hasn't seen or heard from the guy since September 2009 ... 5 months before their daughter was born. In the docs, filed Wednesday in L.A. County Superior Court, Marlene claims she's also "struggling financially" because Chris stopped paying his court-ordered spousal support and medical expenses.

Marlene is also asking the court for sole custody of their 2-month-old daughter -- with Chris only getting supervised visitation -- because, according to the docs, "[Chris] has a volatile temper."
So they were married a year and a month and now have a 2 month old daughter. And dude hasn't even been in touch with his wife and kid (whom he kicked out) since Marlene was 4 months pregnant? And he has a "volatile temper"? He previously played with the Ravens first, then was released from the Saints just 2 months before they won the Superbowl. Not a good look.
What possessed a mother and daughter to tag team Too Short's concert stage is beyond me. But it happened recently in Houston. Peep this video of a mother and daughter hitting the stage to see who could best shake that thang for a porkchop. This is hilarious yet "scrunched nose wtf look" worthy all at the same time.
The Randomness:
1. T.I. announced today via his site that he's dropping his brand new comeback studio album August 24th. It's called King Uncaged.
​ ​
​ ​ ​