Naomi On The Oprah Show: Talks Her Married Boyfriend, Her Temper, & Her Killer Body
​
May 03 | by Natasha
​ ​ ​ ​
Oprah had the baddest supermodel of them all, Naomi Campbell, on her show today. O asked Naomi how she feels about her actions toward her housekeepers and assistants and cab drivers--all of whom she has lashed out on physically. And Naomi opened up with tears and fears, and exposed a side we rarely see.
Snippets and recaps when you read on...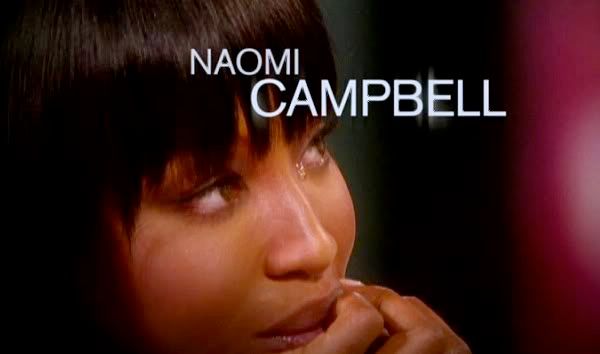 When asked about physically going off on people in her life, Naomi's response:
"I take responsibility for the things that I have done and I do feel a great sense of shame. I feel remorseful. I feel ashamed. I feel for them...[I think,] 'What have I done to them?' If I've hurt them."

The almost 40-year-old model tells, "I think it comes from a deeper place than that," she says. "It comes from another type of emotional disorder, because it's not just, 'I don't get what I want. I throw...It comes from, I think, an abandonment issue... just trying to build up a family around me that's not my immediate family."
Naomi also revealed her mother left her for a while after she had her at 19. Both her mother and boyfriend Vladimir were in the audience.
Oprah asked Vladimir about still being married to his "wife". Vlad responded that they have been separated for 10 years. And Naomi added that she now calls Moscow, Russia home (his hometown) and she is "friends" with the wife and the daughter.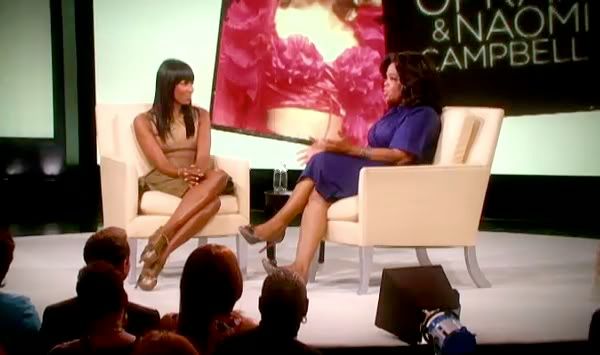 Na talked about keeping her body in tip top position, much of which she credits to "good bones from her mother" and her fitness crazed boyfriend. She says Vlad tells her not to eat the bread at the table, and she works out. She's spent 18 days on the master cleanse (lemon pepper diet) recently and does it 3 times a year.
At the end of their talk, O had her sign the "No Phone Throwing" pledge as well as the "No Phone Zone" pledge. Funny ish. O told her she's far too pretty on the outside for her "inside" not to match. One of the most revealing and good interviews I've seen Naomi do.
​ ​
​ ​ ​