OH SNAP! Siovaughn Wade Is SUING Gabby Union For F'in Up Her Marriage!
​
May 04 | by Natasha
​ ​ ​ ​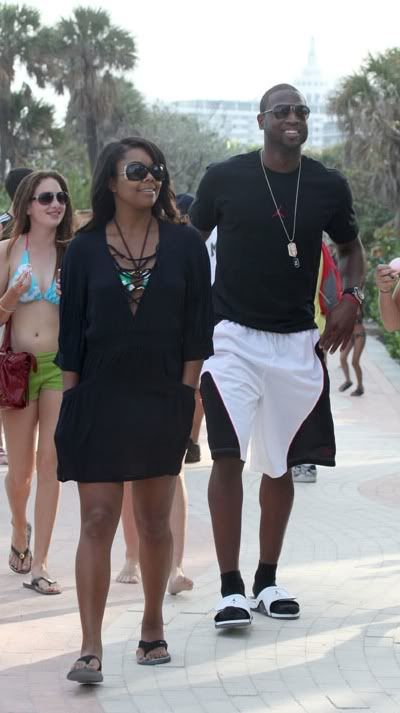 Hot damn! Just when we thought the Wade divorce was cooling off a bit, Siohvaughn went and turned it all the way up. Dwyane Wade's ex-wife Siohvaughn Wade filed a shocking (well, not to us) lawsuit today in Chicago. And it's against her ex's mistress Gabrielle Union!
Gabby and Dwyane tried to keep their relationship under wrap for a while, but have recently gotten real comfortable as Dwyane's divorce became final. But now that the custody battle has heated up, Sioh's pulling out ALL the stops. The deets when you read on...
According to the Chicago Tribune, Sioh is putting Gabby on blast saying she seduced Dwyane and acted as his mistress in front of their two sons:
The estranged wife of Miami Heat guard Dwyane Wade filed a lawsuit today on behalf of their two sons against a Chicago attorney who she says failed to act in the best interest in their children during the couple's divorce.

Another lawsuit Siohvaughn Wade filed today on behalf of her 8-year-old and 2-year-old sons seeks damages against film actress Gabrielle Union on the grounds that she broke up the marriage.

In the first lawsuit, Siohvaughn Wade says lawyer Lester Barclay of the Dixon & Smith firm was appointed to advocate for the children during the divorce. Barclay ignored reports of abuse or neglect on the part of Dwyane Wade, the 2006 NBA Finals MVP and five-time All-Star, the lawsuit says.

The lawsuit against Union -- who has starred in the films "Bring It On," "Deliver Us from Eva," and "Bad Boys II" -- says Union "apparently decided to take her role" of seductress "beyond the films and into the home of a married man ... in the presence of his two minor children."

The complaints were filed after Dwyane Wade recently asked a Miami court to grant him sole custody of the boys, adding to an already venomous and drawn-out divorce proceeding between Wade and his estranged wife.
Well, cases have already been won big time by wives who have sued the mistresses. So...this ish just got real.
​ ​
​ ​ ​