50 Cent Is Looking More Normal Again...
​
May 27 | by Natasha
​ ​ ​ ​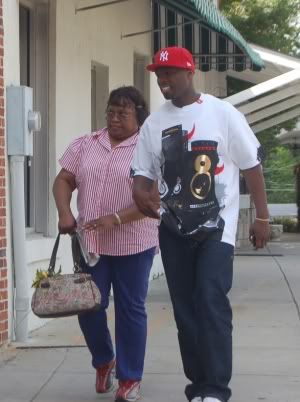 50 Cent was spotted out in Edgefield County, South Carolina this week. And after these deathly photos he released yesterday of his "football player turned cancer patient" transformation from when he was filming his Things Fall Apart movie, it looks like 50's now getting back to normal.
Now Curtis is filming a "50's Roots" documentary for VH1 where he's tracing his genealogy on camera. So he is in the southern city of Aiken with his aunt Gladys Simpkins tracing his roots.

The locals went beserk when 50 was spotted out and about this week:
Rapper Curtis "50 Cent" Jackson waved and smiled to fans yelling out his name as he walked into the Edgefield County Archives on Wednesday.

The popular recording artist has been staying in and around Edgefield and Aiken counties this week researching his family genealogy for a documentary special on his roots, which can be traced directly to Edgefield and Johnston. A camera crew is traveling with the star and filming his progress for "50's Roots," an installment in VH1's series "Rock Docs."


Residents said 50 Cent was in Johnston on Tuesday and was open to talking with fans, signing autographs and having his picture taken. It was a different story in Edgefield on Wednesday.

Earlier that day, a large crowd of fans gathered in the parking lot of the Old Edgefield Grill, which had closed to customers around noon so 50 Cent could eat lunch with his aunt, Gladys Simpkins, who lives in Aiken. Several people who had spoken with the artist said he was tired and almost ordered lunch to go to avoid the crowds after spending Tuesday with his fans.

Mary Turner, front of the house manager at the Old Edgefield Grill, waited on the artist and said 50 Cent ordered a cheeseburger all the way and french fries for lunch. He brought with him a bottle of apple juice to drink. Turner saved the bottle.

He must have liked the meal, she said, because he cleaned his plate.

"He was a real gentleman," Turner said.
Sweet. Good to see 50 getting back to his fighting weight...
The Randomness:
1. Congrats to our YBF Shane&Shawn $500 Shoe Giveaway WINNERS: Ni-Keshia Spencer & Jason Maughan!
​ ​
​ ​ ​