Chad "Ocho Cinco" Johnson: No Black Girls On My Dating Show!
Jun 01 | by Natasha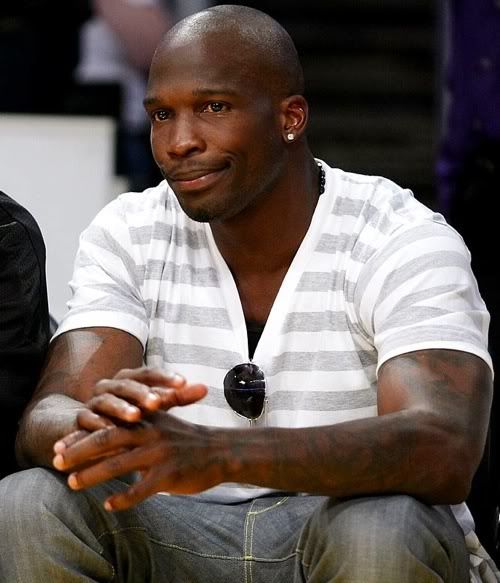 The drama with Chad "Ocho Cinco" Johnson's VH1 reality dating show has already begun. They started filming "The Ultimate Catch" very recently, and we received an interesting letter from a contestant who has already been sent home.
Apparently, Mr. Ocho Cinco is not a fan of having black girls on his show. We received emails from both a contestant and an employee of the production company stating that Chad is demanding that all the black girls be "cut", except for 1. He wants to keep the Latina and brunette white girls who he says are "better" for him.
Here's the email we received from one of the contestants Chad conveniently sent home early on after she made Top 30:
I am an avid reader of YBF and was recently selected as one of the final 85 for Chad's )OchoCinco) dating reality show. Long story short, Chad has identity issues and primarily chose Latinas and white girls (mostly brunette's). Many of the black girls were eliminated right off the back (including Rabbit from Real Chance of Love)<-- might I add Cali made a cameo as well. I managed to make top 30 before getting eliminated.

The entire day was unorganized and Chad only wanted to do things his way; he wouldn't listen to producers and all selections were made by him only. In the beginning Chad walked the field and immediately began to dismiss girls, he later called a group of ten girls (including myself) up to the front and told us to "not worry you're not going anywhere.." Shortly after he directed us to do a quick warm up lap (at the Rose Bowl in Pasadena, CA). This warm up lap turned into chaos, lap after lap producer's were unsure of what to do next so they directed girls to keep running. Luckily, I stay with a personal trainer, so I ran a total of 6 laps before I stopped for water. Some girls began to hyperventalate, while others began to walk. One by one, Chad starting pulling black girls aside and telling them "bye." During my stop for a cup of water, Chad called me over along with a group of six girls; 5 black and 1 white. He then said "umm... you guys are eliminated... uh.. yea--yea eliminated--Except for you." And guess who he pulled out the group? The white girl.

Long story short, Chad is intimidated by a successful black woman. And this so-called competition definitely wasn't based off of looks or class. **I'm Just Sayin**

Just wanted to give you the scoop.

P.S. I am a YBF chick of Carribean decent.
Well damn. We also received this other email from a member of the production staff. Apparently this production person is sending the email around to many sites so they must be really trying to put him on blast:
Hey Theybf-
I'm a big fan of yours!!! I wanted to give you the inside scoop from Chad Ochocinco's new reality show the "Ultimate Catch". Long story short...i'm employed by the company that is producing the reality show. The show just started filming yesterday.

Now, when you watch the show it's going to appear as if he had to narrow down 84 girls to 17! In reality 17 girls were pre-selected by the producers and flown to LA a week prior to do interviews and photo shoots for the show. The other 67 girls on set were extras filling in.

When Chad arrived on set yesterday, he saw a mixed variety of nationalities that the producers had already pre-selected...five black girls, 5 spanish girls, 6 white girls, and a girl of middle eastern decent. He seemed rather upset and acted irritated. The producer felt that that he was unhappy and after talking to them off air, Chad wanted to revise the list of the pre-selected girls. He wanted to send home all of the Black girls and replace them with some of the Caucasian and Hispanic girls who were actually extras on set.

After not having picked any Black girls to remain on the show the producers pressured him into picking at least two. Chad, in turn, chooses the two most GHETTO girls there to represent the us. And by ghetto...you know the ones cause black men to say that's the reason they don't date black women anymore.

It's really sad to see a man who has entirely black family, including beautiful black children would have such low regard for black women. I've heard stories about his preference in the past but never in a million year would I think he would make it that obvious, especially knowing that his tv show is not exactly catering to the white folks...
Chad has commented on Twitter that "certain girls" are mad they got sent home and he says he's colorblind. But if even 1/4 of this ish is true, get over yourself Chad. Not the black women need your approval in order to feel "worthy", but if this is what you're teaching your own black daughters, that ish is not a good look. Just sayin'...