Drake On Rihanna: She Played Me Like A Pawn!
​
Jun 10 | by Natasha
​ ​ ​ ​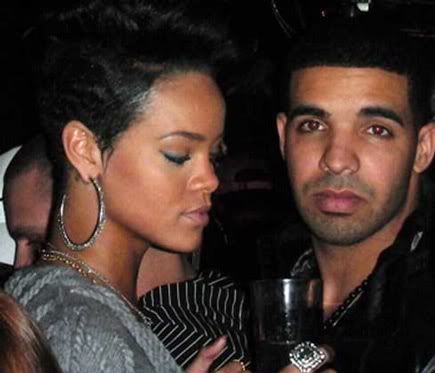 It was only a year ago when Drake was on the verge of becoming the big name he is now, and he was getting it in with Rihanna on the rebound. Rih had gone through Chrihannagate just months before, and she and Drake started to get suspiciously close--hitting the bowling alley and making out, hitting "the studio" together, and the club scene together.
At that time, they both denied that anything was going down. But now, Drake has gone public about how Rihanna used him the same way he used chicks in the past.
*Cue The Violins* On his song "Fireworks", the first cut on Thank Me Later, Drizzy talks about getting played by a "certain chick" and even references the places he and Rih used to chill:
"I could tell it wasn't love/ I just thought you'd f---ed with me/ Who could have predicted/ Lucky Strike would have you stuck with me," Drake raps on the song, referring to the Manhattan bowling alley where the two reportedly made out. "Damn, I kept my wits about me, luckily/ What happened between us that night, it always seems to trouble me/ Now all of a sudden, these gossip rags want to cover me/ And you making it seem like it happened that way because of me."
And he sat down with the New York Times recently and talked about how Rih treating him like a piece of publicity property f'd his head up:

"I don't even know if I wrote a rap song in that whole nine months," Drake said. "Because I wasn't a rapper anymore. I didn't believe in myself. I was someone else's property."
"I was a pawn," Drake told the newspaper about his time with Rihanna, which began with an invite to pen a track for the singer. "You know what she was doing to me? She was doing exactly what I've done to so many women throughout my life, which is show them quality time, then disappear. I was like, 'Wow, this feels terrible.' "
We told you back then, Drizzy, to reconsider since chick was on the rebound. Oh wells. You live and you learn...
​ ​
​ ​ ​