FANTASIA: "I Did NOT Break Up Antwaun's Home"
​
Jul 10 | by YBF
​ ​ ​ ​
Fantasia hit up a radio interview to clear up the rumors about being a "home wrecker" and about her father filing a lawsuit against her.
The deets when you read on…
Fanny hit up TT Torrez's radio show yesterday to talk about her relationship with Antwaun Cook, and her new album "Back To Me" being released August 10th.
She also explains what's going on in her life at this time. From the lawsuit filed by her father, to motherhood, to graduating from high school, and to her reality show and more.
Our highlights:
On her relationship with Antwaun Cook: "No I did NOT break up his home." She claims that they are just friends. She said, "I don't like to share my cookies, and I don't like to share my man."
She said she DID meet T-Mobile salesman Antwaun Cook in a T-Mobile store like we previously reported and he has 2 kids NOT 4. She also said she didn't buy that motorcycle for Antwaun and his wife is NOT suing her. She said she has never met his wife. [So we're tatting "friends'" names on our bods now? OK Fanny.]
On her father suing her: She says her father indeed filed a lawsuit against her, but they have settled already outside of court. She said it was costing her a lot of money going back and forth. "He'll forever be my father. If anything was to ever happen to him I'll be right there. But what I'm doing right now is staying away from all negativity. I don't need anymore drama, I've been through enough so I love him from a distance."
She says she thinks her father was upset about the interview that was published in her book. He felt that they were trying to make him look bad.
On being in an abusive relationship: She said she experienced a physically abusive relationship with her daughter's father. She said she got through it by realizing after their last fight she had to get out of the situation.
Fantasia says she's growing up with her daughter, seeing that she had her daughter at 17. She said she is showing her how a woman is suppose to carry herself and suppose to be treated.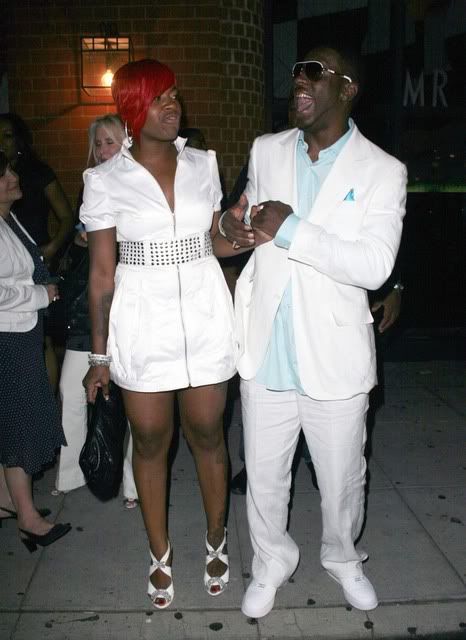 On her relationship/break-up with Young Dro: She said she was attracted to Young Dro because he reminded her of her father. When her brother began working at Grand Hustle, she would tell her brother to tell Dro she thought he was cute. She said she got a call from him one day and they started kicking it.
She said the reason for their breakup was that they "just grew apart". She said she was never pregnant by Young Dro.
On receiving hate mail: Fantasia said she began getting racial letters. They would begin the letter like a fan, and then towards the end of the letter would threaten her saying they would be at all her performances. She beefed up security and continued to perform despite the racial threats.
Fantasia's reality show, "Fantasia For Real," will air for a 2nd season on VH1 around the same time her new album will release in August.
​ ​
​ ​ ​