Lloyd Apologizes To Ciara For Calling Her A "Hollywood B*tch"
​
Jul 16 | by YBF
​ ​ ​ ​
I guess guilt has been eating away at Lloyd recently because he took to his twitter page to publically apologize to singer, Ciara.
Find out why when you read more…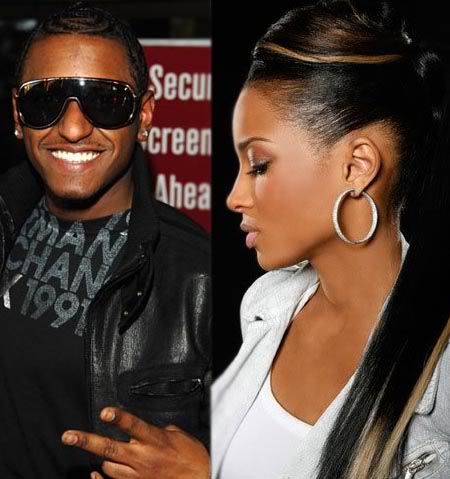 Back in Sept. of '09 sources reported that Lloyd and Ciara were no longer friends because he felt that fame had changed her for the worst. Back in high school in Atlanta, the two were good friends but Lloyd said he had lost touch with her claiming her ego had gotten the best of her.
Lloyd told Hip Hop Weekly:
"I don't f**k with Hollywood b**ches and she's like one of the chicks that's just changed along the way with the fame and the money and all of that. I don't really get down with her anymore on some real s**t. The truth hurts, but it will set you free. But I wish her all the best."
Soon after Lloyd took to his blog to "set the record straight" about the comments he made in Hip Hop Weekly. He said:
Let's set the record straight on my "Hollywood B*tches" comment in Hip Hop Weekly. I said what I said and I stand by it. But read exactly what I said, then judge me. The truth is, I don't fuck with Hollywood B*tches (or Hollywood Ni**as for that matter). No, I'm not calling Ciara a b*tch, I'm saying that I think celebrity status changed her for the worse, and because of that, we don't get down anymore.

Yesterday I spoke to CiCi for the first time in years. I called her to explain my comments and to let her know how I felt about the situation. We had a good one-on-one conversation that will remain between us. I respect and I love CiCi like family, but sometimes family are the only ones that will tell you the truth. I'm sure I could have found a better way to tell her, but what's done is done. We're moving on.

The funny thing is, this Ciara question was the last question in the HHW interview. At first, I lied and made up some answer to make it seem like we were still cool. But when I hung up the phone, I felt like I shoulda just kept it real, so I called back and answered the question honestly. Maybe a little too honestly. But fair is fair, if I start acting Hollywood, someone that knew me before the fame should call me out too. I wish CiCi the best.

Shout out to Dave Mays and Hip Hop Weekly. Peace.
He jumped on his
twitter
Wednesday (July 14
th
) to send out an official apology, for everyone to see, to let the world and
CiCi
know that he let his frustrations get the best of him and took it out on her. He said he was sorry and was wrong for calling her a "Hollywood B*tch." Here's a snapshot of his tweets: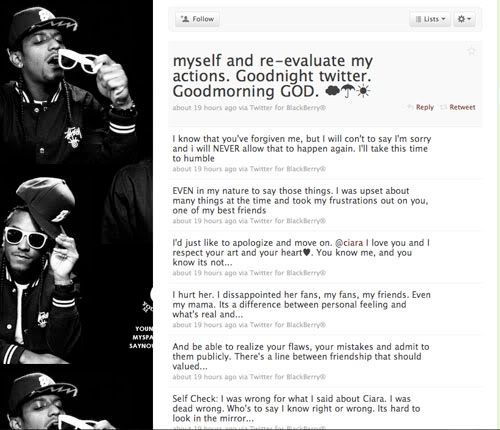 Lloyd, it was nice that you finally apologized to CiCi but what took so long??
Do we believe him?
​ ​
​ ​ ​