*LEAKED INVITATION PIC* T.I. & Tiny's Wedding Is Going Down In Miami NEXT WEEKEND! DETAILS!
​
Jul 23 | by Natasha
​ ​ ​ ​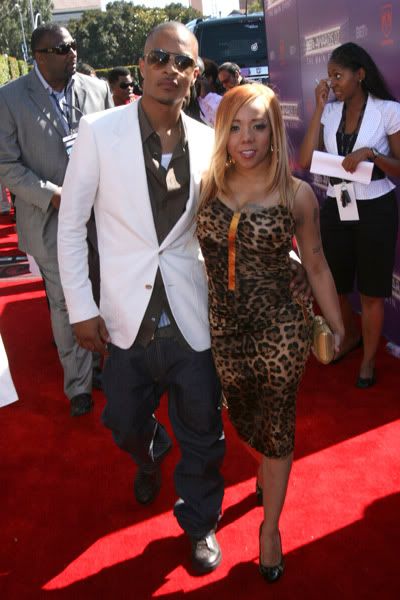 We've got the first snapshot of T.I. and Tiny's wedding invitation. And it's officially official! Their wedding is going down next weekend in Miami.
We've got lots of surprising wedding deets when you read on...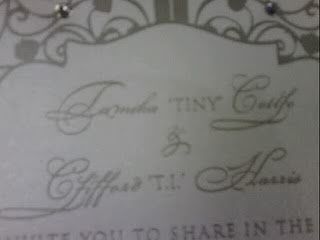 We'll post the full pic of the invite--complete with their "stage names"--one as soon as it leaks. But, for now, we've got some interesting details about T.I. and Tiny's upcoming nuptials taking place July 31st in Miami.
The wedding colors are "platinum" and black. Including the bridesmaids dresses. And one of Tiny's BFF's Monica is a bridesmaid.
And from what we hear, Tiny's other (former?) BFF and former co-star Toya MAY NOT be in the wedding. We hear she has a bridesmaid dress and was originally slated to be in the wedding, but supposedly, Tiny's family aint feeling her. We have a feeling she'll play bridesmaid regardless, even if it's just to keep up appearances. Time will tell.
The trip they are on right now in Hawaii is actually a pre-wedding family trip. We're told they get back to ATL on Saturday, then leave out for Miami soon after.
Everyone JUST received their formal invitations this week so the couple could keep things secret as long as possible. We hear Tiny's former group mate Kandi Burruss will be in attendance, as well as many of the couple's celeb friends and BET staffers. Eat your heart out Hoopz.
And, by the way, we hear there's already a pre-nup in place.
Details developing...
Pic via LSA
​ ​
​ ​ ​