Amber Rose Goes To New Orleans To Visit Reggie+Diddy & Co. Cover VIBE
​
Jul 29 | by Natasha
​ ​ ​ ​
Amber aint slick. Chick is Tweeting (and deleting) messages about jetting to New Orleans to get some nookie from her new boo Reggie Bush. But we can read between the legs.
That and Diddy and Co.'s new VIBE cover when you read on...
Amber wants the world to know she's getting it in with New Orleans Saint Reggie Bush. And now that he's back in the N.O. for training camp, chick decided to make a trip too. Here's what she Tweeted hours ago and then decided to delete:
DaRealAmberRose: I was so distracted today I fell into a Bush. / Ain't been in new orleans a hot 10 minutes and niggas in the airport yellin at me sayin amber rose come here lmfao!
EDIT: We have her ACTUAL tweets and cannot confirm that she said the latter part of the above statement. Apologies.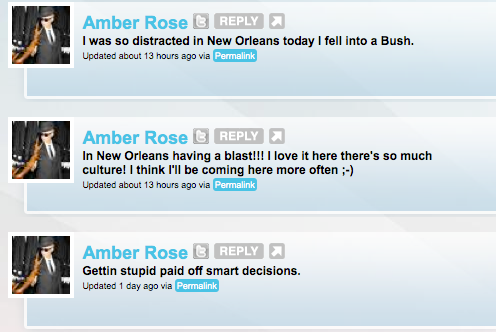 *eyebrows raised* Alrighty then. Don't know how much focusing is going on at training camp if Amber's around.
And Diddy and his Bad Boy crew are covering the August/September JUICE issue of VIBE:
Ricky Rozay, Janelle Monae, Cassie, Dirty Money girls, and Red Cafe all got some shine time. Well isn't that...special. Here's a few quotes from the issue from our homie and VIBE editor Jermaine Hall:
What happened during the Martin Bashir interview on Nightline?
There were times in the interview when I had to give him an ultimatum. The questions weren't being handled the right way. In hindsight, when I saw him I shouldn't had done the interview because I know the style of interview that he does . . . The whole thing about giving a Maybach to my son, that's really like a racist question. You don't ask White people what they buy their kids. And they buy 'em Porsches and convertible Bentleys and it ain't no question. It's really a racist question and put things back in perspective with money and the way that people still look at you. And I'm not saying that consciously he's a racist. But he probably don't even realize that he would not ask Steve Jobs that. He would be like Steve Jobs has that money and that's the gift his kid is supposed to get.

Are the comments from Lil' Kim about Nicki disheartening?
When I heard her say what she said, it didn't really affect me. I didn't get mad at her or anything like that. I knew how she felt. I ain't agree with it. But also I know the motivation. I know that people say, "Oh, he's trying to get a new Lil' Kim." I guess people will see in time. Yeah, Nicki's had flavored wigs on, but besides that it ain't even the same approach to the writing.
The issue hits stands August 16th. And Yours Truly (me) has a lil featurette in it too. Check it!
​ ​
​ ​ ​