*EXCLUSIVE INTERVIEW & PICS* Letoya Luckett Talks Slim Thug, New Album, & Becoming The New Face Of Luster's
​
Jul 29 | by YBF
​ ​ ​ ​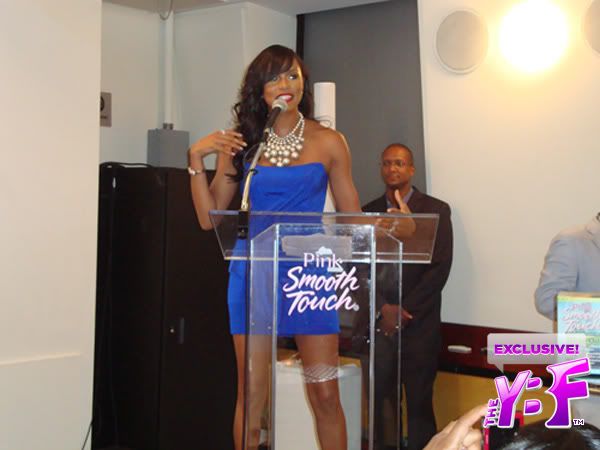 Letoya Luckett is the new face of Luster's Pink Brand Smooth Touch. And Luster's and VIBE magazine hosted a launch party last night for the event.
We've got pics plus an exclusive interview with the groupmate turned fab solo artist when you read on....
The event was held at the Helen Mills Theatre in New York, NY and YBF correspondents Sharde and Angela. NYC folks were in attendance, and YBF Chick Letoya was revealed as the new face of with Luster's. Luster's ended the evening with giveaways of black hair care products, and had tons of swag bags for everyone.
Letoya chatted it up with YBF about her new album, reuniting with Destiny's Child, her ex Slim Thug's recent controversial comments, and her new job as the face of Luster's.
On how she feels being the new face of Luster's Luster's Pink Brand Smooth Touch...
"I'm so excited! Its funny because I don't have a professional background in hair but my grandfather was the first person to ever put a relaxer in my hair and he still to this day has his own shop in Houston Texas! And then of course with Destinys child, Tina would do our hair or we had to do each other's hair and put perm and relaxers in each others hair, so of course this made sense, it jus made sense! Luster came to me and approached me about being a partner in the company and to join forces so I was like absolutely! And they are like a family in itself so its just great! Its crazy because I used to use PINK hair lotion when I was younger! So all of this just made sense!"
On how she got into acting and her dream role...
"I've had the acting bug for a while, acting has always been an interest of mine but of course my singing career came first so when I moved to LA and got an agent and I was sent on my first audition and landed my first gig then I thought "ya know? maybe Im supposed to do this?!" So I kept going to auditions and I landed the role in killers as the character Amanda. I would love to play Lena Horne! If they ever did a story on her I would love to play that role! Because I am a big fan of hers, so that would be great! "
On the new projects she's working on...
"I'm currently working on my new album and I'm taking a new direction with my music (as she looks down at her rings on her hands) so there are a lot of new things are coming up for LeToya so be on the look out!!"
On a possible Destiny's Child reunion...
"That's been a rumor that's been going around for a while. It's funny how when you see two of us in the same place everybody goes "Reunion, reunion, reunion!" – But you know, we haven't talked about it amongst ourselves. If there were to be one I would absolutely love to be apart of it.
Destiny Child's was a big part of my life and I was thankful to have that experience. And if that ever happened then I would love to be apart of it. It sometimes bugs me because I was reading on something recently -- A friend of mine said something like, "Why people hate on the fact that y'all back friends?" I'm like, "People love drama, people love drama", and they don't understand how God works when he wants a relationship healed, when he wants people back together then let that be so. You know, nothing should get in the way of that.
The girls and I are good friends now, we hang out, hit the pool and anybody that got something bad to say about that, I'ma pray for you. When you have any situation where there's heartbreak and love lost--- On my end there was never any love lost. But when things get kind of get crazy and conflicted or whatever and things come back together, that's beautiful. People should applaud that and not be like 'I still want them to still be mad.' Like, why you mad son, what's going on (laughs)?"
On her former boo Slim Thug's comments about black women...
"Black is beautiful baby. It is what it is. I'm so proud to be a black woman; I wouldn't trade it for anything in the world. I mean nothing. I'm blessed to be black. I'm thankful that l I have an amazing family, black women that raised me. Wonderful friends, I'm like an international girl all day long. But I love the black women in my life. My grandmother, my mom… Even on Slim like he has a great mother, he has a great grandmother...women that raised him. His sister... who if it wasn't for her you wouldn't even know who Slim Thug was. Because of how they took care of him... I mean you know, whatever was said, was said. But on my end, Black is Beautiful! "
Here's some pics from the event: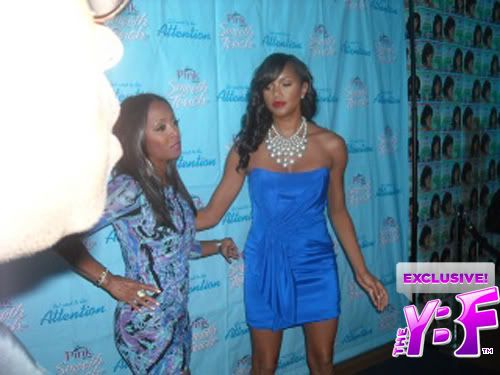 YBF chick Keshia Knight Pulliam showed up.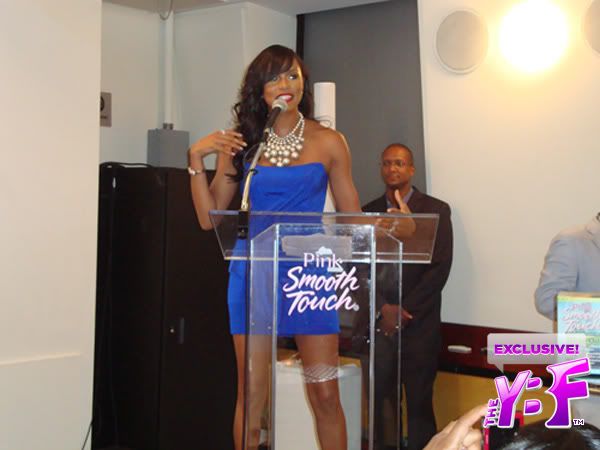 Letoya looked FAB in a Nicole Miller dress paired with Louboutin heels.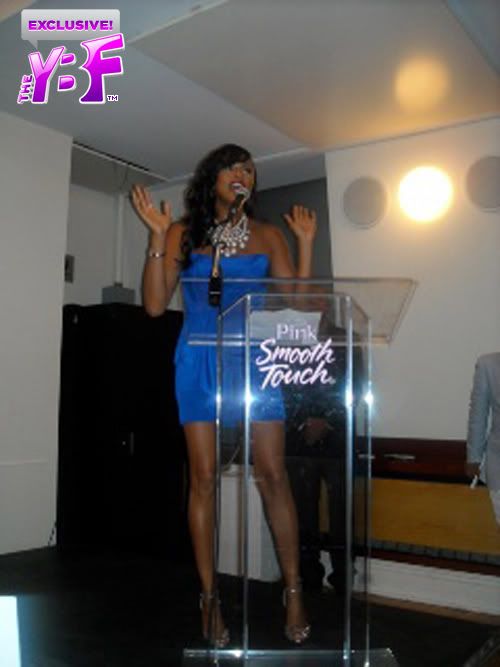 What are you doing Keshia???
We wonder who's putting that smile on Keshia's face..
​ ​
​ ​ ​