Juicy DETAILS About The Matt Barnes And Gloria Govan BREAKUP!
​
Aug 06 | by _YBF
​ ​ ​ ​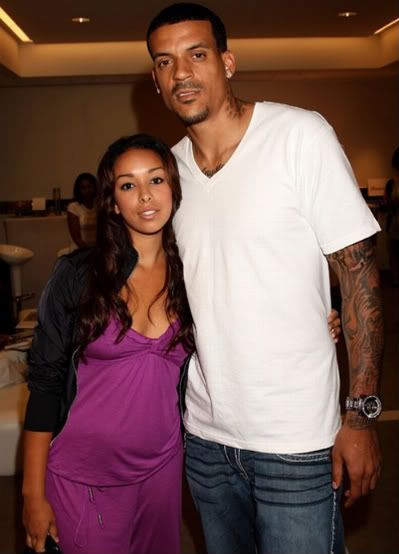 One of our sources dropped a dime on us that the Matt Barnes/Gloria Govan relationship was cracked and flawed from the beginning. Shocker. Our source seems to think Gloria Govan is a gold-digging opportunist taking advantage of a baller. Another shocker.
We've got the juicy details straight from someone who knows Matt very well when you read on...
Here's what ended up in our inbox last night about our previous post on Matt & "Basketball Wife" Gloria's breakup.
This is regarding Matt Barnes and Gloria Govan's failed wedding. I have known Matt for 10+ years and his sister and I are best friends.. Gloria is a gold digger and NOBODY in Matt's family likes her. Gloria got pregnant after dating matt for only 10 months. She planned it. When Matt lost his mother from an unfortunate battle with cancer Gloria's family took Matt under their wings so that allowed him to let his guard down. Matt ended their reltionship previously because Matt discovered Gloria was writing checks to pay off the debt her mother got her into (they have the same name), only to find out two weeks later she was pregnant with the boys. Two days before Matt's charity event Athletes vs Cancer which was held on the weekend of July 24th, Gloria took a golf club to Matt's 150k mercedes busting out the windshield and other damage... That was the straw that broke the camels back for Matt. Matt's true love is former Miss California Tamiko.

Anyways, EVERYBODY loved Tamiko because she is a genuinely sweet girl. I hope Matt ends this relationship with Gloria indefinitely. Currently, Gloria still resides in Matt's house, but she sleeps in the guest room. She claims she won't go to her home in Oakland without the boys.
Hmm...seems like Gloria is a beast behind closed doors. Figured that "holier than thou" exterior she put up on "Basketball Wives" was a farce. And we all know how her sister Laura gets down. (Remember our exclusive about Laura Govan cheating on Gilbert Arenas with Shaquille O'Neal?)
Matt must have realized she wasn't "the one" before they ended up in divorce court and he ended up with a FAT alimony check.
​ ​
​ ​ ​