BLACK GIRL LOST CHRONICLES: Jamie Foxx Goes In On Montana Fishburne + Montana Fires Back
​
Aug 08 | by YBF
​ ​ ​ ​
Well looks like Montana Fishburne aka "Chippy D" is getting all the attention she ever dreamed of since she hit the media outlets. Read her interview with AOL Black Voices and hear what the "always opinionated" Jamie Foxx had to say about her on his Sirius Satellite radio show ...
Despite numerous attempts by friends of Laurence Fishburne to try and stop the release of the sex tape and offering a payout of a million dollars to Vivid Entertainment, Montana wasn't having it. In a recent AOL Black Voices interview, Montana talked about the frenzy surrounding her porno, Kim Kardashian being her inspiration, her father's thoughts and feeling exploited by Brian Pumper.
Black Voices: To what do you attribute to all the hysteria?


Montana Fishburne: People are going to talk no matter what. I'm excited that people are talking about it. I hope everything turns to more positive. I mean, they should be more excited about new porn coming out. I haven't seen a young black female porn star in a long time.

BV: Well, everyone wants to know what your father thinks about it?

MF: I mean, I haven't talked to him directly yet. We have conflicting schedules, so it's been hard. But, he's upset. I hope he supports me. But as soon as I talk to him, you guys are going to hear something.... This is something I wanted to do; it's a goal that I had. I think he'll be proud that I accomplished one of my goals. So if I'm happy, I'm sure that he'll be happy, too.

BV: How has Kim Kardashian really influenced you?

MF: She inspired me to go to Vivid. I always wanted to do porn. That was a given. So when I decided to start getting in to it, to see how I was going to go about it, I looked to her. Kim Kardashian released her sex tape with Vivid. Paris Hilton, Kendra Wilkinson, Pamela Anderson, all these people. And they're well known for having celebrity sex tapes. And Kim's is the one that did the best. Not did the best, but I felt like she got the most hype and buzz out of it. And she decided not to do porn. I want to do another film. And if I do decide to go mainstream, I feel releasing porn with Vivid is the best company to do it with, because they have other avenues that they deal with. I'm loving Vivid right now. They're the best.

BV: Now what's your association with Brian Pumper? He's saying that you have another movie coming out?

MF: I did a music video for him, but with my porn career, I'm focusing on Montana Fishburne with Vivid. That's what it is. The whole Brian Pumper thing, I look at it as a mistake honestly. And I'm trying to get away from that and focus on Vivid and the release of this movie.

BV: Do you think he's exploiting you?

MF: Yes, I feel taken advantage by Brian Pumper. I don't really want to go into details about the situation. Jeremy [Greene, an aspiring porn actor], he feels for me, he knows how I feel about it. He has talked to Brian, and they have dealt with each other, because I don't even want to deal with him anymore. I'm not in contact with Brian Pumper, and I'm just trying to get rid of the situation.

All the attention geared towards pubbing Montana's new "film" has sparked Jamie Foxx to say something. We would have appreciated Oprah, but Jamie decided to step in and let this "black girl lost" hear a few of his choice words about her and Brian Pumper.
Jamie Foxx Foxx took some shots at B. Pumper's rapping ability, saying Pumper should "stick to f***ing and buffing n***as penises because he is the worst rapper ever." The Foxxhole radio crew showed no mercy on Montana's pimple scarred butt cheeks either. Jamie also made sure to say what he would do if his daughter ever thought about releasing a sex tape.
Montana was not pleased when she heard the mean remarks from Jamie Foxx and his radio crew so took to her twitter page. She claimed that Jamie Foxx was also debuting a film--- a gay porno with Vivid Entertainment. LOL. Good way to stir up those gay rumors since Jamie Foxx's sexuality is always being questioned.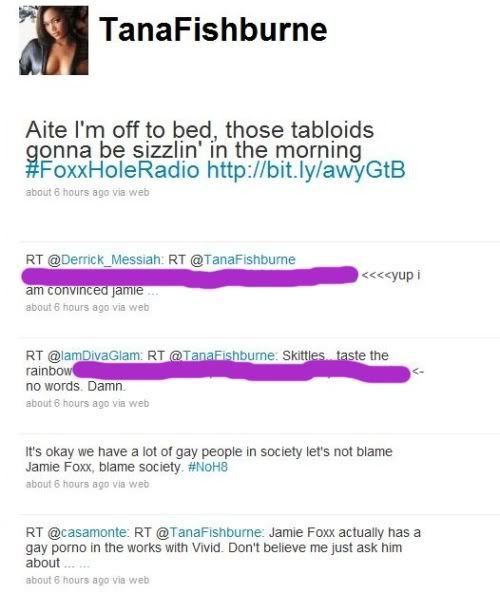 Baby girl needs a reality check. Being a "celeb" does not mean you will always hear or read only positive things about yourself. Did she expect a welcome hug and bottles of champagne being popped after she introduced herself as a "porn" star to the world? SMH. I'm praying that she stops this foolishness and finds another alley to become famous because this is certainly a desperate cry for attention.
​ ​
​ ​ ​