*UPDATED* FOOLYWANG NO MORE? Frankie Speaks Out
Aug 18 | by YBF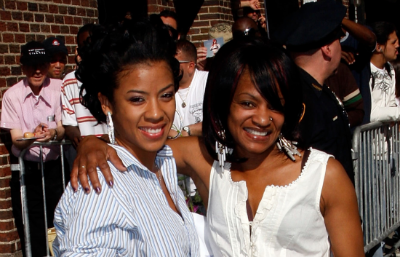 Foolywang queen Frankie Lavern Lons had an interview with Fox 5 in Atlanta. She discusses her relationship with daughter Keyshia Cole, going on 'Celebrity Rehab', Dr. Drew, and many other things. Read on to see the video...
*UPDATE* After posting this video, we received another video interview Frankie did just hours before this one that proves she may not be completely "off the sauce" after all...
Oh, Frankie. So we're just gonna rock these unnecessarily large sunglasses inside of a news studio? And that big earring on ONE ear?! C'mon now....
I'm all for Frankie getting help for her "issues", but I can't help but to be amazed by her actions every time.
HOLLA!
*UPDATE* We just received this tip in our inbox from a faithful reader. Apparently before she did this "I've gotten it together" interview yesterday morning on Fox, she was a hot drunken mess just hours before at another interview on CBS:
Frankie Lons is still very much a hot mess. Before she appeared on Fox 5 yesterday morning she was on Better Mornings Atlanta on the CBS affiliate in Atlanta. Employees said the smelled alcohol on her breath, and she just appeared out of it. When the anchor asked her how long she'd been sober she replied 10 minutes, but then laughed it off saying it had been a month since she was out of the rehab house, but she'd since relapsed. Did I mention she wasn't allowed to do her second interview segment because she said "shit" live on air?! Your viewers will love this video!
Check out the video HERE under "Better Mornings Atlanta". Goodness! Oh wait, there WAS a second earring!