Fantasia Album Release Party Flix, Says Being Dark Skinned Made Her A Media Target
Aug 28 | by YBF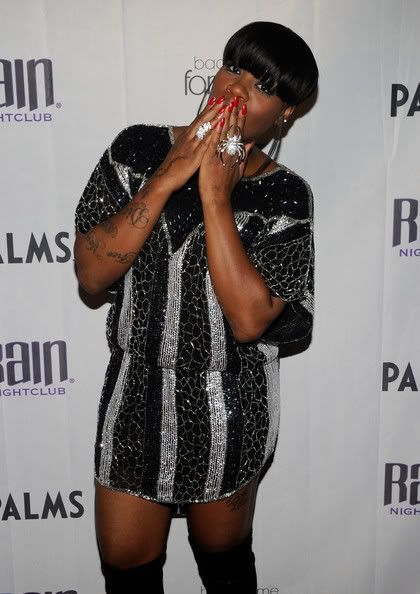 The non-stop promotion for Fantasia's new album Back to Me is in full throttle. Check out pics from her album release party last night in Vegas, plus read her interview with VIBE mag where she discusses how being 'dark skinned" has made her a media target...
Last night, Fantasia Barrino performed during the official release party for her new album, Back to Me, at the Rain Nightclub inside the Palms Casino Resort in Las Vegas. Lisa Raye came through to support Fanny in her usual all white getup: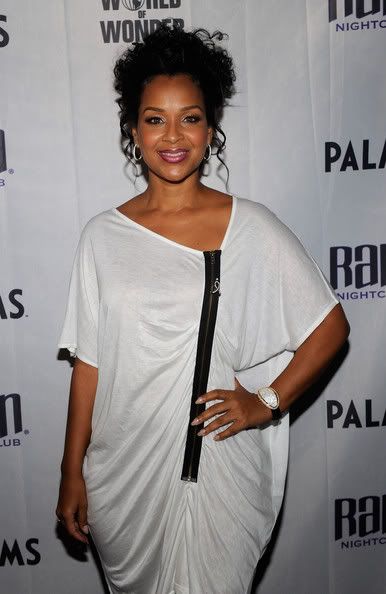 Really? Her manager Brian is really doing the most these days....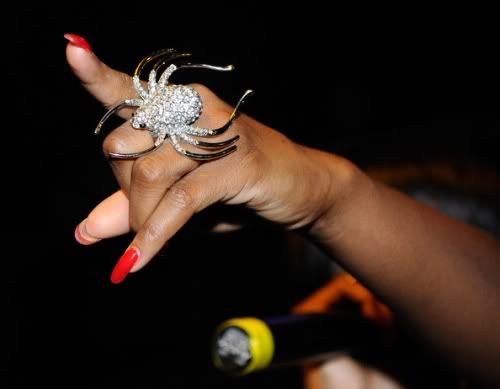 But cute outfit and accessories though. Aside from all the surrounding bullsh*t, the album is actually really good.
Admist all the drama, Fantasia sat down with VIBE mag and explained how her "facial features and dark skin" are some of the reasons why she is receiving so much backlash and mean spirited coverage from the media versus her other female counterparts like Angelina Jolie, Britney Spears and Alicia Keys.
"Yes, I do. I really feel like it does. I was on Nancy Grace, CNN, every gospel station and in every magazine and every newspaper," she told VIBE about the scandal before her O.D. "It was on. You would have thought I was the President or something."


"I've battled and have had to deal with that before. Lord forgive me and I don't want to offend anybody," she says, "but when [I did Idol] it seemed like everybody there was Barbied out. Slim, long hair, light eyes, light-skinned. And here I come with my dark skin, full nose, short hair and full lips — it was hard."
Hmmm. I'm not sure what to say about this. I agree with her to some degree. But, I think she is essentially forgetting the main reason she was being attacked by the mainstream public. Not once did she mention that she garnished all this attention because she was having an affair with a married man. "Separated" or not. And also blatantly lied about things such as having his name tattooed on her.
Antwan was very much with his wife and even seen with his wife (and we posted pictures here on this site) at events WHILE he was "separated". So it is difficult for the public to believe Fantasia when she says she just "didn't know." Meanwhile, Alicia Keys nor Angelina Jolie nor Britney Sears never addressed the situation, nor did they apologize. THAT is the difference.
Her American Idol complaints are a bit unfounded, because, in the end, she is the person AMERICA voted for. She also headlined The Color Purple on Broadway, one of the best musicals in years. And, for the record, the mainstream media slayed Angelina Jolie for years about her cheating with Brad. And this very site broke the exclusive and continued to report about Alicia Keys and Swizzy for 3 years--before mainstream or other sites even caught on. And, honestly, had Paula Cook not named Fanny in the lawsuit, mainstream wouldn't have cared. Especially since YBF broke this story damn near a year ago and no one believed us or reported on it until the lawsuit hit.
The main difference here is: Mashonda, Shar Jackson, and Jennifer Aniston did not go to the courthouse about the cheating like Paula Cook did.
Let's just keep Fanny in our prayers.
Pics of Fanny performing: