SPORTS DRAMA: Venus Williams Skimpy U.S. Open Outfits + Dwight Howard's Daycare Drama
​
Sep 07 | by YBF
​ ​ ​ ​
Dwight Howard pissed off his baby momma once again. Find out what happened plus pics of Venus Williams' U.S. Open outfits that are causing controversy when you read on...
Dwight Howard and his baby momma Royce Reed got into another battle and this time the police were called. Howard went to pick up their 2 year old son from a daycare facility and Royce went crazy and called the police because it wasn't Dwight's day to pick up his son.
By the time Royce arrived at the daycare, Dwight had already left with his son and the police soon called the NBA player. He then explained that he and his ex made a new agreement that gave him the right to pick up his son on that day. The cops spoke to lawyers on both sides who said that although a new agreement was reached it was never signed and the police ordered Dwight to return his son to the daycare immediately.
This situation is getting crazier by the day. Royce is already legally 'banned' from using Dwight's named directly or indirectly on the show 'Basketball Wives'. I wonder what's next in this saga....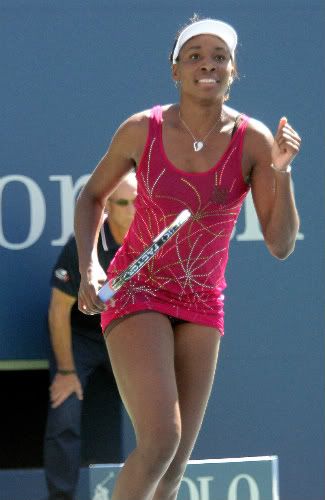 Venus Williams has been receiving a lot of attention recently for her performance on the tennis court as well as her outfits. She's previously worn outfits that resemble lingerie and nude shorts. Venus also received criticism about her fuchsia outfit worn a few days ago. The tennis star spoke about her outfit saying, "This outfit was supposed to be about New York. It's like bursts of fireworks."
Here's some pics of her controversial outfits...
Do you think her outfits are too revealing for a tennis match?!
​ ​
​ ​ ​