Nicki Minaj Talks Bisexuality, Celibacy, & Laughing All The Way To The Bank With Complex Mag
​
Sep 20 | by Natasha
​ ​ ​ ​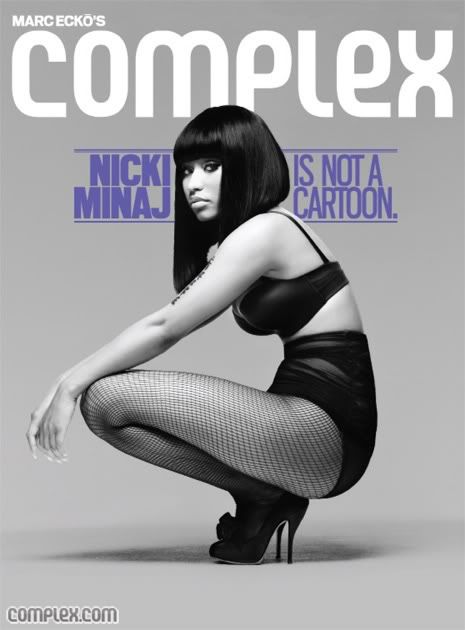 Nicki Minaj is this month's COMPLEX magazine cover girl. And she's dishing up the cream on toning down her sexuality...but still keeping her sexual edge, laughing at her haters, her new album, being the "boss" of her "empire", and having multiple personalities.
Read on for the pics and quotes....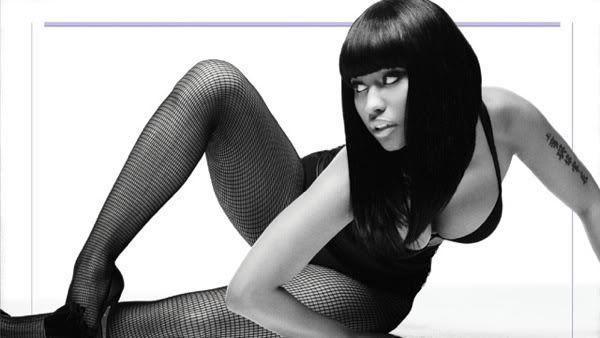 Complex: Everyone has this image of you as a cartoon character with outlandish wigs, but at our shoot today you were much more low-key.
Nicki Minaj: [Laughs.] Every woman is a character—but people need to see I'm a regular human. It's like you wear a pink wig and you're no longer human all of sudden. You're a thing. Like today [the photographer] was like, "Where is that Nicki Minaj smile?" But this shoot doesn't call for the Nicki Minaj smile. You guys wanted me subdued, so I'm gonna give you a different side. I'm not gonna pull a string and be like, "It's Barbie, bitch!"

There's been a lot of speculation about your sexuality in the press. Your verse on Usher's "Lil' Freak" adds to the buzz that you're bisexual.
Nicki Minaj: When I rap, it's just an extension of how I speak, and that's how I talk. If you don't like it, don't listen. I'm also not going to explain something just because I said it in a rap. Take what you want from it. [In the press] I didn't say [I don't like women]. I said I don't have sex with women. I don't have sex with men right now either. If [bisexual is] what they wanna call me, then fine.
So right now Nicki Minaj is celibate?
NM: Yes, and I encourage all my young Barbies to do the same. I just don't have time.

You've said in recent interviews that you want to tone down the sexual content in your music. What prompted that?
NM: On "My Chick Bad," I had to show people that I can spit a verse without sex or talking about how good I look. I'm actually timid when it comes to being overtly sexy, which is weird because in the beginning people thought of me like some freakin' porn star. Guys reference sex all the time in their raps—I can't even think of a record where Wayne doesn't talk about sex—but when a female does it, people start tuning out. Then this gay dude the other day told me, "I say to dudes, 'Maybe it's time to put this pussy on your sideburns.'" I was crying laughing and I was like, "I can't take this shit out of my act." People live for that shit. [Laughs.] I just have to balance it a little bit.
Where do all your different voices come from?
NM: I have no idea. I think Wayne kind of influenced that. He has always been really carefree when he raps and I was like, "I don't have to stay in one cadence or stay in one tone when I rap—I can just do what I want."

But you've been saying in recent interviews that you might tone down the voices.
NM: Sometimes the shit I say is over people's heads and I feel like I need to dumb it down a bit so people can understand it. I think if I had said a lot of raps in a particular voice, people would go, "Yo, that shit was hard"—but when you change up your voice a little bit, they can't see past that. And they're lookin' at me like, "This bitch is stupid"—and I'm lookin' at them like, "No, bitch, you're stupid." [Laughs.]

So on your album and going forward, you're going to mellow out on the voices?
NM: I definitely made a conscious effort to tone the voices down a little bit.

Did the label or management talk to you about it at all?
NM: Again, I run my empire. Does that answer your question? No one tells me anything unless I ask their opinion. No one can make a decision for you. Not if you're the boss.

How hard has it been not to respond when people take shots?
NM: It's not hard when you're making a lot of money and everything you do is sold out, and people adore you and little kids are crying just to take a picture with you. I'm laughing all the way to the bank, just like Wayne said. Young Money is good.

Speaking of Young Money, did your labelmate Drake tell you he'd be mentioning wanting to marry you on his verse for "Miss Me" before you heard it?
NM: He told me he said something about me on a verse, but I didn't think it would be anything like that. He let me hear it for the first time when we did Jay's show at Madison Square Garden, the day before Wayne had to go to jail—that night he let me hear it on the headphones. But you know what else he told me he wrote for me? The Alicia Keys song "I'm Ready." I happen to love the song. I never told anyone that, I hope he won't get mad that I said that.
Alrighty then. I'm dizzy from all this back and forth in different interviews with who she says she is and isn't. Seems to change as much as her voices. But hey...to each their own. She ain't for everybody. Whatever puts money in your accounts, multi-colored wigs on your head, and asses in concert seats. Do you boo.
​ ​
​ ​ ​