OchoCinco Has A New Bedtime Playmate?+ T.I. Gets Clowned By D.L. Hughley At ATL Comedy Show
​
Sep 23 | by _YBF
​ ​ ​ ​
Perhaps Chad Ochocinco didn't need VH1 to find his ultimate catch. He seems to be pullin' these chicks just fine. Meet Chad's latest catch when you go inside plus find out who clowned T.I. and Tiny in Atlanta...
Apparently Chad Ochocinco has moved on from Evelyn Lozada of VH1's "Basketball Wives. Or they CLEARLY have an understanding. Because Trey Songz's former-chick, reality star Ophilia, (pictured above on the right) tweeted last nite that she was at Chad Ochocinco's house watching the Colts/Giants game and wouldn't be sleeping alone. Now chick could have been talking about sleeping with her teddy bear....but I doubt it. Evelyn is in Spain filming the new season of her show.
Chad Tweeted today about finding himself in a new "committed relationship" and how scary it is for him. And Ophilia also tweeted previously about chillin' in the private box seats at the Bengals game. Perfect place to cheer Mr. Johnson on. Interesting.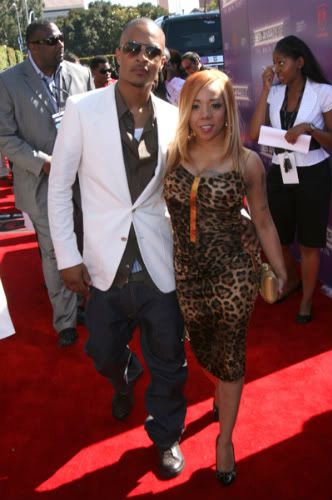 T. I. and his wife Tameka "Tiny" Cottle were spotted out Tuesday night at the Uptown Comedy Corner for D.L. Hughley's 10:00 PM show. Sources say D.L. didn't hold anything back and he made several jokes about TIP and his recent legal troubles.
Apparently the duo didn't mind the jokes and they laughed it up themselves. They stayed the entire show and even signed autographs before leaving the club. Nice to see the Harris family has a sense of humor about the "ordeal".
In other T.I. news, he is supposed to perform at the Virgin Mobile FreeFest in Baltimore on Saturday, September 25, but still hasn't committed. T.I. has been preparing for a parole hearing in Atlanta and there has been wide speculation about his ability to honor touring commitments. So far, he's already canceled three shows, and one that would have come a day after the festival.
​ ​
​ ​ ​