BREAKING NEWS: T.I. Gets ELEVEN Months In Jail, Admits To Drug Addiction
​
Oct 15 | by _YBF
​ ​ ​ ​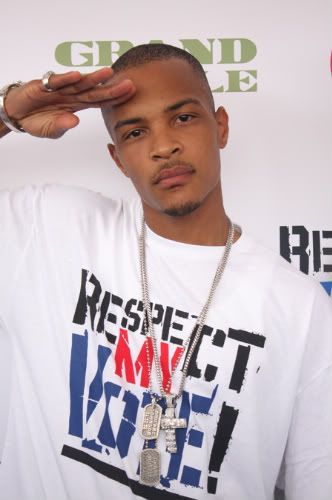 This just in--rapper T.I. was sentenced to 11-months in jail for violating his probation. Details inside...
T.I., government name - Clifford Harris, appeared before U.S. District Judge Charles Pannell Jr. at 2 p.m. today. He was joined by his six attorneys, including Don Samuel, Ed Garland, Steve Sadow, Janice Capek, Kristen Wright and Dwight Thomas. Seems like he hired everyone in ATL except Phaedra from "Real Housewives of Atlanta".
Anyway, remember that T.I. was still on probation for federal weapons charges when he was arrested Sept. 1 on drug charges in Los Angeles. He was out of jail for all of 3 minutes before he made the biggest illegal u-turn of his life.
His probation officer alleged that T.I. committed three violations of his supervised release from prison: possessing ecstasy, testing positive for opiates and associating with a convicted felon. Tip was then ordered to appear in court today.
Access Atlanta reports,
T.I. had been released from federal custody in March after serving a yearlong sentence in prison and a halfway house. After his arrest on federal gun charges, T.I.'s legal team brokered an extraordinary plea agreement that allowed him to shave about four years off his prison time on the condition he perform 1,000 hours of community service telling kids about the pitfalls of crime, drugs and gangs.

T.I. completed his community service and got the sentence he wanted. But he was still on probation when he was arrested at the traffic stop on Sept. 1.
Damn homie. So how are he and Tiny going to explain this to the kids tonight? And P.S. I guess the suicide "stunt" didn't work at all.
UPDATE: Sources in the courtroom say T.I. begged the judge not to send him back to prison, and admited that he needed to get help for drug addiction. He told the judge he "screwed up" and plead for mercy.
​ ​
​ ​ ​