T.I. Says Prison Will Make Him Better, Reunites With Suicide Jumper He Saved
Oct 19 | by _YBF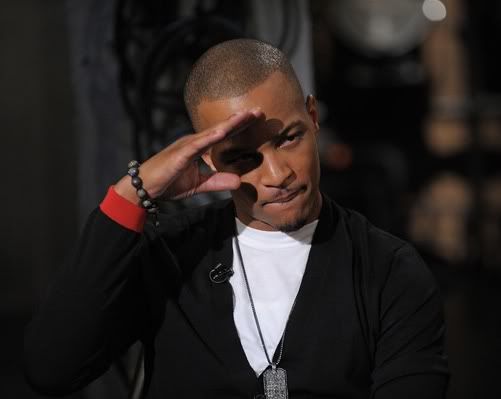 In a very honest radio interview yesterday, rapper T.I. talks about his upcoming jail bid, lessons learned, and reunites with the man whose life he helped save last week. Watch the interview inside...
In an interview on V-103 Monday, T.I. spoke about his approaching 11-month jail bid saying, "After this, I will become a better person. I am not without flaw. One thing from my flaws that I have always done, I have accepted responsibility."
Back in 2008, Clifford Harris aka T.I. plead guilty to a weapons charge in exchange for a light prison sentence and probation. But during his probation, police in California arrested him on a drug charge several weeks ago. Now he's been ordered back to prison for violating his probation.
One of the issues he opened up about was the betrayals he has seen in his life. He says the same people who laugh and cheer for you on your way to the top, are the same ones who laugh and cheer on your way down. It's a wound that seems very fresh in response to how he feels he's been treated by the public.
TIP says his very public mistakes may be unacceptable and inexcuseable, but that does not make them unforgivable. He expressed that the people who point fingers and judge his actions are no better than him. And most of those people don't contribute to the community like he does.
During the interview, TIP was reunited with Joshua Starks, a man he helped talk out of suicide in Atlanta, last Wednesday. Joshua said that TIP's appearance was unexpected and not staged. He thanked him for showing him that "things will get better."
As for his own legal problems, Mr. Harris says "I'm truly sorry and apologetic for having to put people who have supported me in this position. I won't say I'm sorry. I'll show I'm sorry. I'll speak with my actions."
He reminded the audience that he was not prepared for manhood growing up, saying he learned everything by trial and error and that's been his biggest issue. He ended by saying this latest arrest was his final lesson.
So what changes will T.I. be making? While he didn't get into specifics, he says, "I'm going to take it a day at a time," but the public will see that change in the music.
Watch the entire interview here: