Tyra Banks Gets Restraining Order+Clarence Thomas' Wife Demands 20-year-old Apology From Anita Hill
​
Oct 20 | by _YBF
​ ​ ​ ​
TV mogul Tyra Banks was recently granted a restraining order against a deranged stalker. Find out the deets inside, plus what happened when the wife of Supreme Court Justice Clarence Thomas called Anita Hill last week....
Tyra Banks, the creator of "America's Next Top Model", has been granted a temporary restraining order against Marten Williams Jr., who she claims has a history of mental issues. He was jailed previously for stalking other celebs, but has just been released.
Tyra says she and her family have been "targeted, harassed, and stalked" by Marten ever since 2006. The temporary restraining order is set to expire on October 28th, at which time a hearing will take place to make it permanent. Good luck and be safe Tyra.
And for today's foolywang report: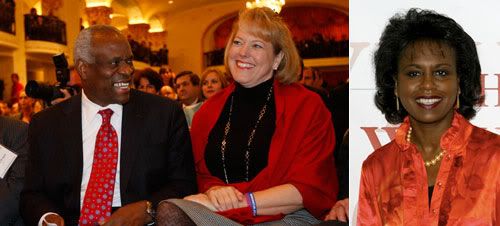 The wife of US Supreme Court Justice Clarence Thomas called her husband's sexual harassment accuser, Anita Hill, and demanded an apology for her testimony before Congress in 1991.
"Good morning, Anita Hill, it's Ginni Thomas," said Virginia Thomas, who called Hill's office at Brandeis University, where Hill is a law professor. She left a message at 7:30 a.m. Saturday:
"I just wanted to reach across the airwaves and the years and ask you to consider something. I would love you to consider an apology sometime and some full explanation of why you did what you did with my husband. So give it some thought and certainly pray about this and come to understand why you did what you did. OK. Have a good day."
But it wasn't, as Virginia Thomas later confirmed it was her to a reporter.
"I did place a call to Ms. Hill at her office extending an olive branch to her after all these years, in hopes that we could ultimately get past what happened so long ago. That offer still stands, I would be very happy to meet and talk with her if she would be willing to do the same. Certainly no offense was ever intended."
When told of Virginia's comments, Anita replied,
"Even if it wasn't a prank, it was in no way conciliatory for her to begin with the presumption that I did something wrong in 1991. I don't apologize. I have no intention of apologizing, and I stand by my testimony in 1991."
Totally agree Dr. Hill. But who calls someone at 7:30 on a Saturday morning about something that happened almost twenty years ago?? Ginni obviously had a long Friday night...or was inspired by some climactic Tyler Perry scene. Either way....inappropriate.
​ ​
​ ​ ​