Well, Does This Help Explain The 50 Cent & Soulja Boy XXL Cover?
​
Oct 21 | by Natasha
​ ​ ​ ​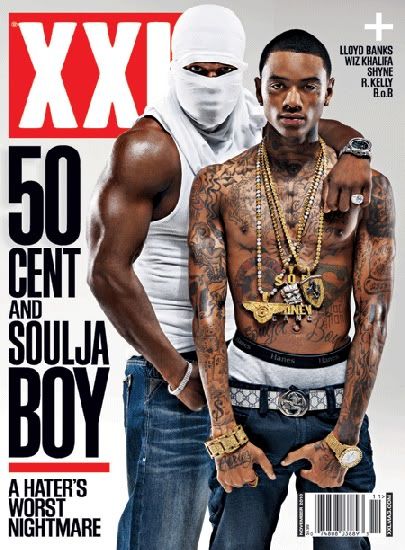 After 50 Cent and Soulja Boy's November XXL magazine cover came out yesterday, it raised a few eyebrows.
Their behind the scenes footage may explain why they did a joint cover. But it's up to you to decide if this was the best pic XXL should have used. Read on for the vid...
In the footage, 50 gave off the vibe that he's pretty much taken Soulja under his wing and is playing the big brother role. 50 said:
"If I had to wish to be any other artist in the industry right now, I'd wish to be Soulja Boy."
Which may explain their joint cover. But it doesn't explain why they chose this particular shot over all the others we see in this footage. Just sayin'....
​ ​
​ ​ ​